A Special Guided Tour will be held on November 7th at 2pm. Space is limited!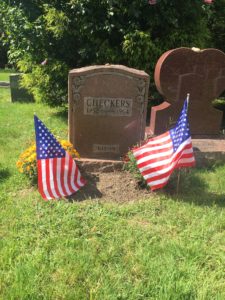 This summer, Bideawee launched the first-ever self-guided walking tours of our Pet Memorial Park in Wantagh on Long Island. Visitors are welcome to pick up a map and brochure outside the Pet Memorial Park office to guide them on their tour of the Park. Walkers will explore the grave sites of many beloved pets who call Bideawee their final resting place, including Sarge, a Belgian Shepherd and army hero of the WWII Canine Corps; Checkers, the Cocker Spaniel credited with saving Richard Nixon's political career in 1952; a giant 125-pound tortoise; a duck; a capuchin monkey; petit horses; and more.
We hope you will take this opportunity to discover the history and enjoy the serene beauty of our Memorial Park. As you enjoy exploring the Park, please be mindful and respectful of the animal's graves and the families that may be visiting them. Visitors are asked to maintain social distancing guidelines.

Walking Tour Hours:
Sundays-Saturdays from 8:30 a.m. – 5:00 p.m
Location:
3300 Beltagh Avenue
Wantagh, NY 11793
This tour is self-guided
Bideawee offers compassionate end of life services for pet owners at our two Pet Memorial Parks.
Bideawee was founded in 1903 as one of our country's first no-kill animal welfare organizations.