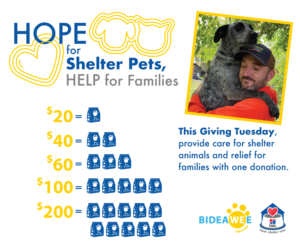 For more than 117 years, Bideawee has been cultivating and supporting the relationship between pets and the people who love them. We have always understood that positive outcomes for pets depend on the families and communities in which they reside.
Since the pandemic began, the number of New Yorkers seeking assistance from food pantries and soup kitchens has skyrocketed, and if families are struggling to feed themselves, they are struggling to feed their pets too. We believe that when times are tough, we need our best friends more than ever, and they need us just as much.
This Giving Tuesday, when you make a $20 donation to Bideawee, our partners at Hill's Pet Nutrition will donate a five-pound bag of food through their Food, Shelter & Love Program to a food pantry in NYC to help struggling families care for their four-legged loved ones.
Today, help find homes for shelter pets AND provide support to families who are struggling to care for their pets – with just one donation!