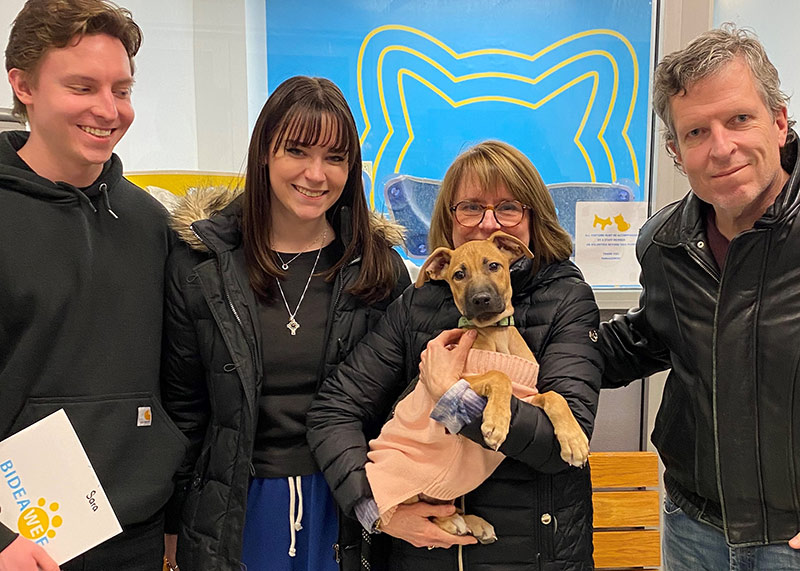 This Month's Features
Pet Spotlight: Jonesy

I had lost my cat Jasper the day after Thanksgiving. He was 15, and had lived out his natural life, but it was still so painful to lose my constant companion of the last 12 years. Every time I walked into my apartment, it felt heartbreakingly empty. I kept forgetting that Jasper wasn't there in his favorite spot on the sofa or on his pillow next to mine on the bed.
Learn how to turn hiding hissers into confident cuddlers!
Spring has sprung, and we are already ankle-deep in "kitten season" in New York City and Long Island. Longer days and warmer temperatures have inspired cats who have not yet been spayed or neutered to breed. Getting kittens off the streets and adopted into indoor homes is one of the goals of Trap-Neuter-Return (TNR), and these feral-born kittens need human help to be lovingly tamed for adoption.
Bideawee's Feral Cat Initiative wants to teach you how to transform these precious lives. Whether you are new to kitten taming or would just like a refresher in the best socialization techniques, we would love to have you join us for our free Taming Feral Kittens for Adoption webinar on April 19!
Heroes Among Us
What do you call someone who loves animals so much, that they will get up before the sun comes up, travel to the city to a dark and quiet shelter, feed, clean and leash up a puppy and gather bags of supplies to head out to an early morning media appearance which includes hours of wait times, just to pack up the puppy once again and head back?
Staff Spotlight: Kathleen O'Malley

Director of Community Cat Education
Hi! I'm Kathleen and I joined Bideawee in 2019 when the Feral Cat Initiative (FCI) became part of the organization. As FCI's Director of Community Cat Education, I teach and advocate for Trap-Neuter-Return (TNR), the humane and effective approach to reducing and managing the population of community cats. I have been an animal welfare professional since 2013, when I left a career in medical editing to "work for cats."
Pick of the Litter: Sam

by Kerrie McKeon, Adoption associate

My pick of the litter for April is sweet, sensitive, Sam! Sam is what we call a "fake hisser." He's currently in foster, but when he was with us in the shelter, he would greet all visitors with a little hiss, and then five minutes later, he'd be purring in your lap. Sam is 7-years-old and we suspect that he spent the majority of his life struggling to survive on the streets. But he is far too sweet for that life. Sam just wants to spend the rest of his life warm, cozy and in the company of someone who will love him and cuddle him for all the days. He's so cute, and when he's being pet and in the zone, he will drool a little (that's how you know that he's totally zen'd out). Sam is FIV+ but most FIV+ cats live full, healthy lives and don't require any special medical treatment. They just benefit from healthy food, the usual vet care and a stable environment like any other pet. Sam is going to make an extraordinary companion and we can't wait to see him find the loving home he deserves!