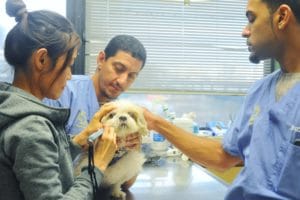 Here at Bideawee, we have an animal bill of rights that promises the very best care to every dog and cat that comes through our doors, and every person on our team works incredibly hard to ensure that we are exceeding those standards. We often receive animals who need extensive and prolonged medical care that goes far beyond the everyday spays and neuters, dentals, vaccinations and URI care. In fact, this February we have a number of animals who need extensive heart care.
Bideawee is incredibly fortunate to have a team of exceptional veterinary medical professionals who are able to care for even the most intense and dire cases of neglect, abuse, illness and disease. We are equipped with a medical suite/hospital in each of our locations along with specific isolation wards and most importantly, a skilled team who are passionate about saving the innocent lives of these animals. Bideawee is uniquely positioned to rescue animals that other organizations might turn away, like seniors who need surgery and specialized care, or animals who need fospice care so they can live out the remainder of their days in a peaceful and loving setting with one of our foster families. We care for pregnant moms, emaciated and abused animals, animals who have been hit by cars or been the victims of horrific falls, and so many others. Every animal that comes to us is given the very best care until they find their forever home, or as they live out their lives as part of our family.
You may or may not ever meet any of the medical team at Bideawee, but you should know that they are all heroes working behind-the-scenes every day to provide second chances for animals who wouldn't have made it without them. They are the heroes who come in early, leave late or stay overnight to watch over a dog or cat in distress; who bottle-feed orphaned babies every two hours throughout the night; who give end-of-life comfort and care to animals who might otherwise die alone on the streets. These heroes are the ones who are there to comfort, heal, and prepare the youngest and the oldest to become cherished family pets.
This Valentine's Day, please remember that while our medical team heals the hearts of each of these patients with their expert care and treatment, they will also be healing them with the loving, compassionate care they provide every animal on their journey to becoming your beloved pet.
On behalf of the thousands of dogs and cats that they have helped save, please join me in thanking the incredible veterinary team at Bideawee for healing hearts and mending souls.