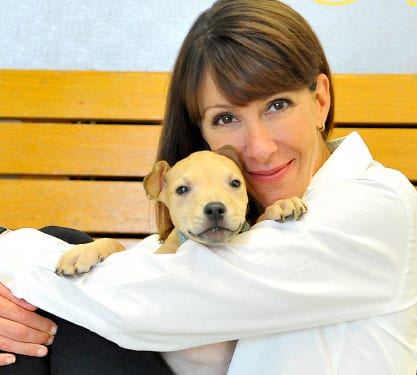 Until the COVID-19 pandemic turned her life around, Pumpkin, a feisty orange and white tabby knew only an animal shelter as home for eight long years. Scrambling to clear our shelters amid stay-at-home orders, we were able to place Pumpkin in foster care where she adapted to home life and was adopted by her forever family a few weeks later.
Now, as interest in fostering remains high, we must build on this momentum and tweak our approach to animal welfare so that we can save even more dogs and cats for decades to come. Robust foster programs will make shelters more sustainable.
At Bideawee, we went into overdrive when the pandemic reached our shores. The number of potential foster parents who responded to our appeal was staggering. March saw Bideawee receive over 700 foster applications, compared to 70 in February. We placed all the dogs and cats at our Manhattan location, and 60% of the pets overall at our Manhattan and two Long Island campuses, into foster care. During 2020, we saw a 62% increase in animals placed into foster care over the previous year. Shelters across the nation saw similar spikes in interest.
What's most heartwarming is seeing the foster program help some of the most difficult-to-adopt pets, like Pumpkin, find their forever homes. We knew that dogs and cats thrive better in a home, but many shelters like ours hadn't realized how much we could accomplish through fostering until we had to pivot so quickly.
We're currently onboarding 30 foster parents a week, and we will enthusiastically work to expand this program. Through a roster of responsible and reliable foster households, and oversight by trained staff and volunteers, shelters have the ability to rescue significantly more animals.
Through foster care, dogs and cats are matched with households that specifically meet their needs. With one-on-one attention, families help socialize the animals. We can better deduce the real behavior of a pet when it is in a home rather than a shelter. Oftentimes, timid, shy animals come into their own, and ongoing conversations with the foster family enable us to see what kind of home would be most suitable for the dog or cat.
Families provide a healing environment for animals with medical needs, and offer compassionate end of life care through what is known as fospice, a combination of "foster" and "hospice." Shelters cover the food, medication and expenses of caring for an aging or ailing animal, and work with the family to ensure the pet's comfort.
In turn, a relationship with a companion animal is enriching and brings joy to everyday life, especially during uncertain times. As the CDC says, there are many health benefits to owning a pet. Dog walking increases opportunities to exercise and get outside, for example. Playing with pets can decrease blood pressure, cholesterol levels, depression, and other serious conditions.
The ASPCA estimates that approximately 6.5 million companion animals enter U.S. shelters each year. March through October brings kitten season, when outside cats reproduce more often, resulting in thousands of kittens overcrowding shelters and at times euthanasia.
We can start saving more animal lives by augmenting existing foster programs and launching new ones. Shelters will no longer be restricted by space and staff, and they'd be delighted to pair you with a dog, cat, puppy, or kitten for a weekend shelter break, a couple of weeks or a few months.
The COVID-19 era has shown us that "for now" homes are as important as forever homes, and when the animal welfare community collaborates we can solve more problems than we could individually. We're devoted to the pets we serve and we have a passion for helping even more of them.
The animal-human bond is a strong one, sealed with loyalty and love, and though your heart will likely ache when it's time to say goodbye to a foster pet, knowing that you've given a rescued dog or cat – and the others who follow in the shelter – a second chance, makes the experience tremendously rewarding.
Abraham Lincoln, foster parent to a dog named Fido, once said, "The best way to predict the future is to create it." As we make our way through the challenging times of the pandemic, we have the opportunity to not only predict the future of animals but to create it. Let's be the heroes for the companion animals who reciprocally do the same for us.