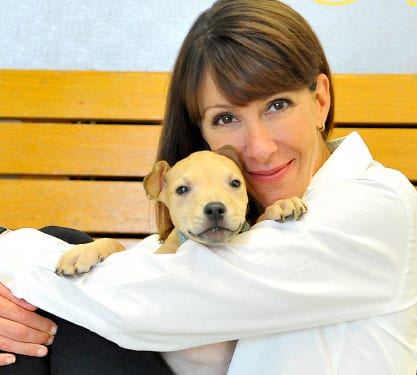 As we head into Thanksgiving, I wanted to take a moment to reflect and give thanks for the many things I am privileged to observe in my unique role as the President and CEO of Bideawee.  Despite the challenges of 2020, the fear and pain of a global pandemic, and the uncertainty of our country's future, I am blessed to bear witness to acts of heroism– acts of saving animals' lives–not in a big, "media-splashy" way, but in the everyday actions of the staff, volunteers, board, adopters and donors that make up the Bideawee family. For that, I am so very grateful.
For most people, animal sheltering work is something they see from a very different perspective than those of us who work in the field. It can appear to be a "dream job" to those who love animals and think that there could be nothing better than cuddling cute puppies and playing with mischievous kittens all day. And sometimes, that is reality, at least for a moment or two in the day.  But for the majority of the time, animal sheltering work is fraught with long hours, hard and dirty labor, and heartbreaking scenarios that the extraordinary staff who work in this field take very much to heart in order to provide the best to the animals we save and to the people who love them.
From our medical team in the Animal Hospital, our staff in Finance and Facilities, and every department in between, to our incredible volunteers, and Board of Directors, this is not a job, but a labor of love. And like any labor of love, it is full of joyful and deeply rewarding moments but it isn't easy, and it takes a physical and emotional toll on all of us. Still, we wouldn't trade it for anything in the world.  Whatever it takes, Bideawee's community will rise to the challenge if it means they can save an innocent cat or dog's life, or provide comfort and care to the people who love those animals. For them, I am so very grateful.
Almost 2,000 adopters a year come through the doors at Bideawee and bring home a new family member.  What they don't always realize is that by opening their hearts to an animal that might not have had a future elsewhere, they are freeing up a kennel and saving another life.  When you adopt, you don't just save one life, you save two. For all the people who choose to adopt a homeless animal, I am so very, very grateful.
And to our supporters– the compassionate, generous animal lovers who sustain life-saving programs like our Fospice program, and give sweet, gentle animals like Marlon Brando and Ginger the opportunity to experience love, care and companionship during the final stages of their lives—we simply could not do our work without you. You make it possible for us to rescue, shelter, feed, medically treat, and provide life-saving surgeries to the animals who depend on us.  For all of you, I am immensely grateful.
Many of you are probably familiar with Giving Tuesday, a global day of giving that encourages and inspires hundreds of millions of people to give, collaborate, and celebrate generosity. Like most charitable organizations, Bideawee participates in this day, and historically, we've asked you to make a donation to help us continue to save, and improve the lives of animals in need. However, this Giving Tuesday, we wanted to do something different to address the struggles that pets, and the people who love them are facing during this pandemic. This Giving Tuesday, when you make a $20 donation to Bideawee, our partners at Hills Pet Nutrition will donate a five-pound bag of food through their Food, Shelter, Love Program to a food pantry to help families care for their four-legged loved ones. We're calling the campaign Hope for Shelter Pets, Help for Families and I hope you will consider joining us in providing a helping hand for pets AND people as we head into the holiday season. For the opportunity to help families—the two and four-legged members, I am eternally grateful.
THANK YOU all for giving me so many reasons to be grateful as we head into the holiday season.  2020 has been a doozy but it's no match for family and community.  Thank you for being a part of ours.