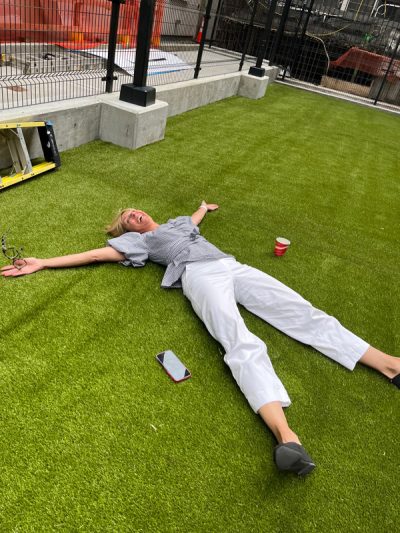 As the CEO of Bideawee for the past six years, I am absolutely thrilled to share my immense joy and excitement surrounding the long-LONG-awaited opening of our new state-of-the-art Chelsea campus.  Over a century in the making, this milestone achievement marks a transformative step forward in our mission to create and strengthen the human-animal bond through best-in-class lifesaving and compassionate care for pets and the people who love them.  With each day that passes, we are just that much closer to the day we can eagerly welcome our incredible staff, volunteers, adopters, and donors to this remarkable facility.
This has truly been a testament to perseverance.  Flora Kibbe's perseverance in establishing Bideawee in 1903 and keeping it going through WWI, WWII, The Great Depression and more and the perseverance of all who have helped us realize this dream. The path to Chelsea has been filled with resilience and determination.  We encountered the expected hurdles of construction – including  delays and navigating city permits, in addition to hurdles that came with working through a pandemic. We experienced supply-chain issues, worker shortages and other issues that we couldn't have foreseen.  But, through it all, our unwavering commitment to our four-legged friends and the people who love them propelled us forward.
To all of you who have been part of this journey with us, I extend my heartfelt gratitude for your support and patience through this process. To the team that has been told "we are moving!" so many times, only to be delayed again, I thank you for sticking with us through this process.  It's going to be so worth it!  Your belief in this vision has been instrumental in bringing our dream to life. And to all of the dogs and cats who will benefit from our belief in this vision – we are almost ready for you!
At the core of our new campus is our passion and dedication to providing the very best care for the animals that come through our doors.  We are proud to offer a dedicated floor just for our cats and kittens, ensuring they have a serene and comforting environment to thrive in.  Our pups no longer have any bars on their kennels; instead, they will benefit from plexi-glass doors, built in beds, revolving water and food bowls for easy cleaning and less stressful feeding times.   Additionally, our carefully designed outdoor space provides our pups with room to explore and play, creating a literal doggie haven amidst the bustling city!  This is one thing we never even dreamed we would have!  And I for one was so excited when the turf was installed that I literally had to lie down on the grass and smile in wonderment!
The excitement within our Bideawee family is palpable.  Stay tuned for the exact date of our ribbon-cutting ceremony (we're thinking it will be in the beginning of August)!  This momentous occasion will celebrate the realization of this years-long project that will culminate in our once and final move from the quiet location at 38th Street between 1st and the FDR, to the highly trafficked 152 West 24th Street between 6th and 7th Avenues!  I am personally grateful for the trust you have placed in me and in Bideawee as we begin our next 120 years on the West Side of Manhattan!  I'll see you there soon!