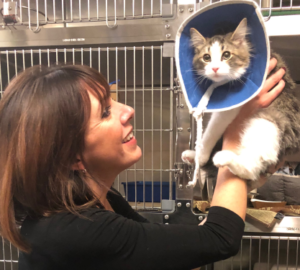 It feels like we never had a break, but in a matter of weeks, the pregnant cats, mama cats, kitten families, and orphan bottle babies are going to be flooding alleys, backyards, communities and shelters once again, and we need your help.
Kitten Season is upon us and Bideawee is planning and preparing because we know that it's only a matter of time before we are inundated with calls and pleas for help. Most years, we receive far more requests to take in kittens than we can accommodate. This year, in anticipation of the coming season, we are asking for you to play a really big part in helping us save even more lives. Here is how you can BE THEIR HERO:
Become a Certified TNR caretaker and help stop the flow of kittens being born! Bideawee's Feral Cat Initiative team has been hard at work planning TNR workshops, and providing cat lovers with the tools and resources they need to help the homeless cats and kittens in their community.
Sign up for workshops being offered throughout the five boroughs.
Adopt, Adopt, Adopt! Not just a kitten, but make room in your local shelter now by adopting an adult cat.
OR…one of the most important ways you can help save lives is to Become a Kitten Foster!
By becoming a kitten foster, you are playing an integral role in providing care for kittens that Bideawee might otherwise not have been able to take in, while also providing the necessary socialization until they are old enough to be spayed/neutered and adopted. You are also protecting them from being abandoned or becoming feral and protecting them from illness and extra stress from being in a crowded shelter. You are not just saving the lives of the kittens you foster, but you are saving the lives of those Bideawee would otherwise not have room to take in if it weren't for you.
Learn more about becoming a kitten foster.
If you already foster, learn how to tame and/or bottle feed kittens by attending one of our specialty workshops.
Let's hope that someday, kitten season is eradicated, but for now, let's work together to prepare and save as many innocent lives as we can.