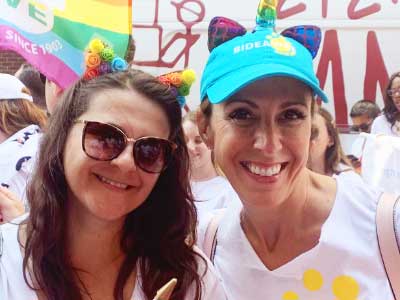 June is Pride Month: a time to celebrate the richness of LGBTQIA+ culture and identity. As a proud ally, I find it amazing to notice just how far we've come in recognizing that Love Is Love. This year's theme for NYC pride is "Unapologetically Us" — highlighting a new era where people are accepted as they are — not in spite of who they are. That's why this month it's so important to display pride — pride in who we are, and who we love. That goes for the humans we love AND the animals we love.
And as I reflect on what it means to embody this loving attitude, I look to our shelter animals for additional inspiration. When I see cats and dogs getting along (not behavior we normally expect), nothing warms my heart more. They show us that no one is destined to be limited by how others perceive them. Our pets have already perfected the attitude and philosophy of "Love is Love".
Here we find an unlikely combination – a dog and a cat who have become an inseparable pair. You see, one thing I've learned through my years of working in animal welfare is that pets in our shelter can be unpredictable and unsparing in their affection. Dogs share the company of cats, cats share the company of dogs and some animals prefer the company of specific employees, just because. These critters are free of judgment and never treat anyone differently based on identity, or anything else really – except maybe their generosity with treats. They approach the world with an openness to new people that I try and emulate. They're searching for the best in everyone they meet.
So, why not work on opening your heart this June? Consider adopting or fostering one of our animals. An opportunity to not only receive love, but to give love. – unconditionally. There's a lot of wisdom to be procured from these furry friends. Let the spirit of non-judgment guide you – and maybe it will lead you to an animal you didn't even know you needed. You could be that lifelong cat person who ends up taking home a rambunctious little terrier! Or you could choose one from every category like me!
We at Bideawee want to use Pride Month to celebrate all of our volunteers, employees, and everyone else who is a part of the LGBT community. We cherish you for you, and we commit to always striving for equality, representing a diverse group of people from all backgrounds, and preserving the ability of anyone to be unapologetically themselves. We can't predict who we will love. All we can do is keep this love at the forefront of our experience, and always keep our hearts open to anyone who comes our way. dog, cat, or human!