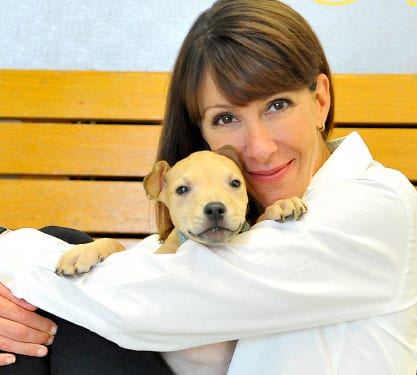 September is National Preparedness Month, a campaign aimed at raising awareness about the importance of preparing for disasters and emergencies that could happen at any time. The 2021 theme is "Prepare to Protect." Preparing for disasters helps to protect everyone you love, and we know that includes your beloved four-legged family members.
The subject of emergency preparedness could not be timelier. In the last few weeks, we've witnessed a number of major weather-related disasters that have affected people and pets in this country. We've seen evacuations, flash-flooding, and tragically, many deaths. These disasters have even hit close to home here in New York with the remnants of Hurricane Ida causing horrific flash-flooding across the tristate area. Thankfully, our team and the animals in our care were safe, but others were not so lucky, and our hearts break for the lives lost and suffering endured by so many.
As an animal welfare organization, we immediately reached out to our transport partners to offer to help shelters that were hit especially hard, like those in Louisiana and Mississippi. And by the time you read this, we will have already taken in close to 17 dogs from overcrowded municipal shelters in these cities to make room for the animals that went missing or were abandoned during the storm.
And, just as we prepare for the safety of our people and the animals we care for well in advance whenever possible, we want you to do the same so that you can protect yourself and your loved ones in the event of an emergency. Did you know that you can, and should begin to prepare before an emergency is imminent?  You should have a plan in place before disaster strikes, and below are a few of the things you should consider:
First of all, please make sure your pet is microchipped and that the information the chip company has is up-to-date. Should your dog or cat ever get separated from you, this is the best way for a veterinarian, shelter or police precinct to identify your pet and get in touch with you.
Even with a microchip, make sure your cats and dogs have collars and tags on them – with your cell phone number.
Prepare an emergency kit for each of your animals, make sure it is easily accessible, and includes a one week supply of food and water, a first aid kit, extra medication, identification, proof of vaccinations and animal care supplies such as an extra collar and leash, crate or carrier, collapsible food and water bowls, toys and treats. Also, having supplies such as plastic poop bags and cat litter with litter tray are helpful.
Make sure you've researched pet friendly hotels, evacuation shelters and other places to stay out of the area such as with a friend or relative. Think about what you would do or where you might go in the event of various emergencies. If there was a heat wave and you lost power, would you know where to find a pet-friendly cooling center in your town? If it was winter and you had no heat, could you relocate to a hotel or friend/family member's home? Make sure you consider these things ahead of time and have a plan in place.
You should also give an extra key to a trusted friend or neighbor in the event that an emergency occurs and you are not home to care for your pet.
Additionally, it's always smart to carry photos of you with your pet, should you become separated and need proof of ownership.
And above all, never leave your pet behind if you evacuate.  If your home isn't safe for you, it isn't safe for your pet either.
And don't forget about community cats!
Finally, while it isn't something any of us want to think about, we should all have a plan in place in the tragic event that we predecease our pets. Our love and commitment to our pets is everlasting and we want to be sure they will be loved and cared for in our absence. Relatives and friends, while well-meaning, are not always able to care for our pets for various reasons, and having a plan that ensures that our four-legged loved ones spend the rest of their life in a safe, loving home is incredibly important & can be a huge comfort if and when it ever becomes necessary. Bideawee can help you carry out this plan. Through our Loving Legacy program, you can create personalized care plans for your surviving pets as part of your overall estate plans.  Learn more about Loving Legacy by contacting our planned giving specialist, Tamara Alfano at [email protected].
No matter what the emergency, Bideawee understands the importance of protecting your beloved pet.  Please, make a plan now, and have the peace of mind of knowing that you are providing the very best in any unforeseen situation for the ones you love the most.