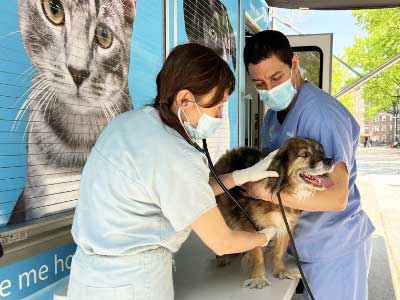 As our gas bills begin to look like grocery bills and our grocery bills begin to look like utility bills, it comes as no surprise that more New Yorkers are in need than ever before.
Bideawee has long valued and honored the human-animal bond—a bond that can be threatened in the face of financial crisis. Before the pandemic, there were thousands of pet owners who struggled to make ends meet for themselves, their families, and their pets. In post-pandemic New York, the demand for access to preventative veterinary care, pet food, and resources continues to grow.
Since our founding in 1903, Bideawee has been saving the lives of thousands of homeless shelter pets across NYC and Long Island each year. As Bideawee looks toward the future, we consider not only how we can continue to save lives, but how we can become an integral part of a solution that leads to fewer pets becoming homeless in the first place.
To that end, this year, Bideawee created and launched its Community Outreach Program, aimed at providing unique programming including:
The Feral Cat Initiative (FCI) to humanely reduce the number free roaming cats and number of kittens born on the streets, thereby reducing the number of kittens entering animal shelters each year,
And our newly launched Community Wellness Clinics and pet food giveaways, providing the necessary preventative veterinary care and pet food to keep pets healthy, keep their bowls full, and keep them with the people who love them.
In these uncertain economic times, no pet owner should be faced with the heartbreaking decision to surrender their beloved pet because of temporary financial hardship. By providing free core vaccinations and preventative veterinary care for cats, kittens, dogs, and puppies, we ensure that owned pets will not fall victim to easily preventable illnesses that are costly to treat and at worst can even become life-threatening. By providing free high-quality pet food, we can keep pet bowls full while creating a bit of breathing room in the budgets of pet owners facing economic hardship.
As we begin this programming in some of the most under-resourced and economically challenged neighborhoods in East Brooklyn, it is my greatest hope that Bideawee can help cherished pets stay where they belong… in their homes with the people who love them.
Be sure to check out next month's newsletter to see our next Community Wellness Clinic in action, and learn more about how you can help us help our neighbors in need.