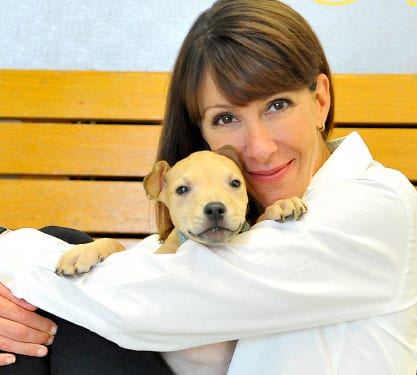 On October 1, 2021 Bideawee puts another fiscal year in the books and begins anew!  And even though we continued to live through a pandemic this past year with seemingly no end in sight, Bideawee managed to not only survive, but truly thrive, for the sake of pets and the people who love them!
There is so much for the team to be proud of and so much for us to be grateful for – namely the support of people like you who have been enormously generous in helping us continue to fulfill our mission. We wouldn't be here today without you, and we certainly would not have been able to help animals like Licorice, a two-year-old kitty who arrived with a wire tied around his abdomen; or Wolfie, a sweet, blind 11-year-old senior with cancer, who will live out the rest of his days in a loving "fospice" home.  So, I want to take this opportunity to thank you on behalf of my team, and all the animals that were saved because of your support.  You are our hero.
Thanks to you…
Bideawee broke ground on our new Manhattan headquarters in March of 2021. (Grand Opening Summer 2022).
Bideawee opened our doors fully for walk-in adoptions at our current location in August of 2021 (the first time since March 2020, when lockdown began).
We rescued and adopted 1680 animals over the past fiscal year.
We had our first, and not one, but TWO wildly successful in-person fundraising events since June 2019!
Our galas raised more than half a million dollars to help save even more animals next year!
Bideawee met and exceeded our annual budget so that we can continue to provide lifesaving surgeries, medical treatment and best-in-class care to every animal who comes through our doors.
Bideawee was able to reach more than 1075 people across the world through our FCI educational webinars.
Bideawee facilitated nearly 550 spay/neuter surgeries for community cats.
Our team gets to carry out the lifesaving work they are so incredibly passionate about each and every day.  Never forget that you are a hero to both animals in need, AND to the staff and volunteers who work so hard to help those animals every day.
I look forward to sharing with you the many successes and lifesaving stories of the coming fiscal year.  Thank you for taking the journey with us.