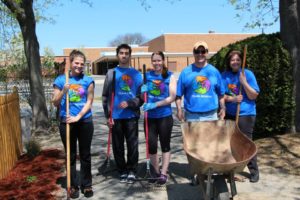 Bideawee's Corporate Volunteer Program supports businesses that want to give back to their community by providing various customizable volunteer projects. Corporate Volunteer opportunities are offered at all three Bideawee locations and are available at various levels depending on duration, donation level, size and project.
Please contact the Bideawee Volunteer Manager at our Manhattan, Westhampton or Wantagh location to discuss how we can create a Corporate Volunteer opportunity tailored to your organization.
Group requirements:
For Onsite Events: Minimum of 5 people, Maximum of 10 people
For Offsite Events: Minimum of 15 people
Session must be schedule at least 3 weeks in advance to allow time to purchase materials and confirm volunteers for the event.