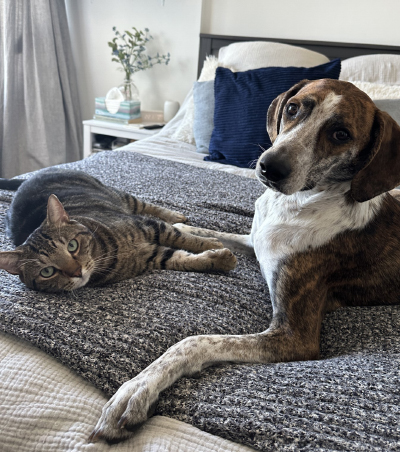 Charlie & Whiskey's family talks about adopting their beautiful Bideawee family
In August of 2019, my partner and I decided we were ready for a furry companion. We had always been dog people, but given our busy schedules at work, we knew we weren't ready for a dog. We decided we would go check out local shelters to see if any cats were calling our name. I don't even remember how we stumbled upon Bideawee, but we are so happy we did. As soon as we walked in, a precious little tabby popped his head out of one of the cat houses he had been hiding in. We both knew as soon as we saw him that he was ours – and thus Franklin became our Charlie!!!
A couple years later, post-covid, we both had much more flexibility in our work schedule. Charlie was loving us being home all the time and we decided he might also like a pal. So, we headed back to Bideawee and instantly fell in love with our second baby, a hound named Pasquale. Pasquale wasn't quite ready for adoption yet, so we patiently waited and refreshed the Bideawee website until we saw he was ready for us. And then Pasquale became our Whiskey!
The first couple months with Charlie and Whiskey was a slow and steady process. We took all the precautions to introduce them and socialize, though I will admit I cried the first week thinking they would never be best pals. But lo and behold, that is exactly what happened. Charlie and Whiskey are now brothers for life, they keep each other company, have each other's backs, and love to play and have fun with each other. We cannot thank Bideawee enough for giving us our babies and creating our perfect little family.