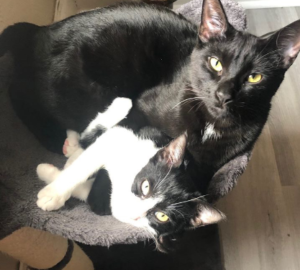 We adopted Bronx in December of 2019. We had visited Bideawee's Manhattan location with the intention of adopting a dog, and happened upon a very timid black kitten who very quickly captured our hearts. And as they say, the rest was history! The minute he came home, he made himself comfortable, and we knew we had made the right choice.
Bronx is such a beautiful boy and he loves to play! He has a favorite room where you can find him gazing out the window at the neighborhood squirrels, and he's particularly attached to his 12-year-old human brother, Dylan, and his seven-year-old human sister, Estelle.
Earlier in the pandemic, I was contacted by Bideawee to see if I was available to foster an 8-week-old kitten named Skittles and I immediately agreed. We have a large home and a ton of love to give, and after one day with Skittles, I knew that she had found her permanent home with us. She's super vocal, and it was practically love at first sight with her and Bronx!
She adores Bronx and follows his lead in everything he does, and he loves cuddling and grooming his little sister. My home is filled with so much love and I'm so grateful to Bideawee for helping to make our family complete.