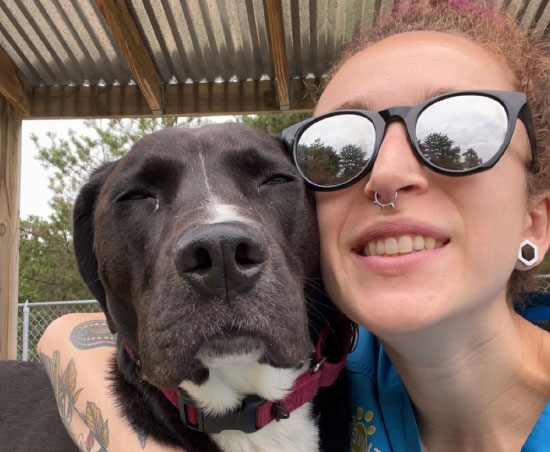 Alison Cappabianca, Adoption Associate, Westhampton
My role at Bideawee is referred to as an Adoption Associate, but it is so much more than that.  Each day, we work so closely with these beloved temporary residents to learn the best ways to communicate with them and love them until we see them off to their forever families.  More than anything, it's a work of heart!
I originally started my career at Bideawee in 2020 and after two years, I took a quick break for a possible career change, but nothing made me as happy and fulfilled as my time at Bideawee.  I've been back since May and have been loving every second of it!  Before working with this organization, I was a teen volunteer and my love for animals grew.  I've always had a passion for animals, but I'm particularly passionate about shelter work. I love working with shelter animals and facilitating their growth while they are with us. This has even sparked my interest in pursuing dog training certifications.
Outside of work, I love to write, sing, spend time with friends and family, and most importantly, spend time with my parents' dog, Millie, and my dog, Lenny, both of whom are Bideawee alumni!
Ultimately, Bideawee has made such a huge positive impact on me and I'm very grateful to be involved with this organization. The picture I included is with one of my best friends at Westhampton, a long-stay dog named Empress!