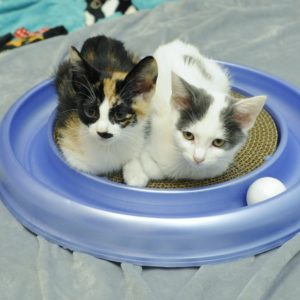 We lost our beloved 13 and ½ year old cat, Beast, to a brain tumor in the early stages of the pandemic. We had adopted Beast from a shelter in Schenectady, NY, and though no one could ever replace him, we decided to check and see if there was a cat or kitten in New York City we might offer a loving home.
And then we found Bideawee, and their wonderful staff! We were immediately attracted to Bideawee's 117-year history, and we spotted two bonded kittens pictured on the website. We fell in love at first sight with these two little babies rescued from a backyard in Staten Island, but we tried to temper our enthusiasm to protect ourselves. We filled out our application and waited. The very next day Katie contacted us, set up a zoom information call, and later that same day we zoomed with Ellen, Katie, Flo (the foster mom), and the two kittens. We said yes immediately!
These two kittens have brought so much joy into our lives. They are curious about their new family and absolutely love belly rubs and face rubs. They were extremely cautious when they first arrived, especially Diablo, but with lots of treats and fun toys, they have come to enjoy our home and our family.
Diablo is cautious and more reserved, but well on his way to being a mama's boy. His favorite things in the world are the many treats he is fed daily, and that nefarious red laser dot he just can't seem to catch. Beezle is outgoing, brave, flirtatious, and spoiled. She likes to remind her humans that they are in possession of two hands, not just one, and should be using both to rub her.
Both kittens are training for a marathon by zooming around our home, chasing after each other. They like to practice their hunting skills with the help of catnip-filled mouse toys. And they use our bookshelves, art-work, and furniture as their personal jungle gym. However, their favorite toy will always be our feet under the blanket while we try to sleep. After all of the activity of the day, they snuggle together on our bed and sleep all night. We are so happy they are in our lives, filling our days with happiness and laughter.