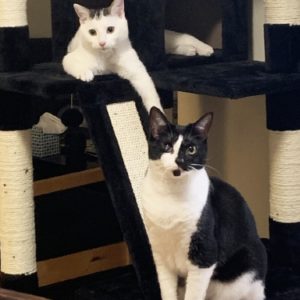 Fifi and Ellie were adopted about a year apart from Bideawee, but have since become the best of friends! We (Lindsey, Sarah, and Kathryn) are all graduate students in NYC who moved in together in September 2018 and quickly realized that we all wanted a cat. When we first visited Bideawee, we thought we wanted an older cat, but a little black and white kitten with a "funky" eye stole our hearts. Lindsey officially adopted our sweet Fifi, and she quickly settled into our apartment. Despite only being able to see out of one eye, she is a very skilled climber and knocker-over of things. We've since learned that she LOVES to drink water out of our glasses and is very interested in sinks, bathtubs, and showers.
We signed up to foster kittens over the summer of 2019, thinking that perhaps a second cat was in our future but mostly to help out and provide a home during kitten season. We fostered a few kittens, and then late in the summer we saw a foster request for a sweet 6-month-old kitten, Eleanor (Ellie), with a neurological condition which made her back legs weak. Our flexible schedules as graduate students made it easy to take her to physical therapy sessions at the Water4Dogs Rehabilitation Center in Tribeca. Ellie also settled in quickly to our apartment, although initial introductions with Fifi were a bit rocky. Ellie was surprisingly territorial of her space for a kitten who had just moved in. Over the few months we fostered Ellie, she became less territorial and started to play with Fifi! Between all the subway trips and time spent doing physical therapy, we all developed a bond with her and couldn't imagine not adopting her into our wacky family. Sarah officially adopted Ellie in November 2019, and since then Ellie has grown into a very confident cat who loves to play with Fifi, crinkly balls, and spring toys. She doesn't have the same mischievous spirit as Fifi, but loves to watch as her sister knocks things over onto the ground for them both to play with!
Bring home your best friend.  Search our available pets.