FCI Trains Bideawee Volunteer of the Month to Raise Abandoned Kittens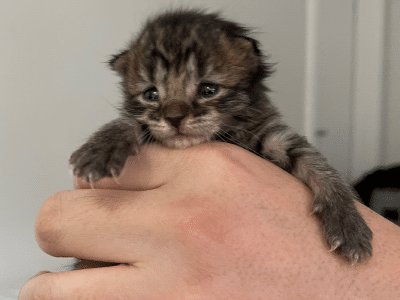 After Brooklyn resident, Hayong Lau, attended Bideawee's Feral Cat Initiative's (FCI) Bottle-Feeding & Care of Orphaned Kittens webinar last year, she immediately wanted to put what she learned into practice to help the most vulnerable members of the community cat world — newborn kittens. She became an official Bideawee foster caretaker by attending our online volunteer orientation, and she has since gone on to foster many cats and kittens on their way to adoption.
Two of Hayong's first foster kittens included Bear and Lily, 2-week-old siblings who were found late at night in a sealed trash can in the Bronx by a concerned passerby who heard their tiny cries for help. The kittens were first brought to Iris Lugo, founder of Bronx Kitten Rescue, where they could be warmed up in an incubator. FCI's Debbie Graham picked up the kittens the following morning. After being examined and fed by Bideawee's medical and adoption staff, the kittens were sent on their way to Brooklyn for lots of TLC from Hayong. Although they were both underweight for their age, Bear was smaller and weaker than his sister. Thanks to foster volunteer Hayong, however, both Bear and Lily steadily gained weight and strength with every bottle-feeding. Hayong continues to provide the love and round-the-clock care Bear and Lilly will need until they are ready to be adopted into their loving forever home.
Hayong was voted Bideawee's Volunteer of the Month in February 2021, but to the cats and kittens she has fostered, she is a lifesaver every month!