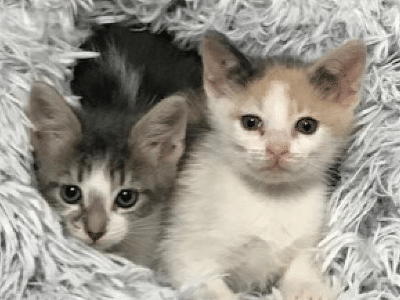 With "kitten season" in high gear and animal shelters and rescue groups full of wonderful kitties looking for homes, summer can be the purrfect time to add a feline friend to your family. But did you know that choosing two kittens or cats can make adoption even better?
Adopting two kittens is twice the fun and half the work of adopting only one! Kittens are little bundles of energy who love to play. By adopting a second kitten, you're providing each with a built-in playmate, wrestle partner, etiquette teacher, and cuddle companion while you're away. Kittens who are adopted alone tend to try to make the best out of their situation by finding sparring opponents and playmates in all the wrong places — like your curtains or ankles.
Whether to adopt adult cats alone or in pairs depends heavily on their temperaments. There are adult cats who love the company of other friendly felines, while there are others who would prefer to be your one and only. If you're interested in adopting multiple adult cats, consider adopting a bonded pair from your local animal shelter or rescue group. Bonded adult cats typically have lived in a home together already, and they tend to wait in the shelter longer for someone with enough room in their heart and home to adopt two cats at once.
If you're ready to bring home a new feline friend — or better yet, friends — this summer, visit our Adoption page to view cats and kittens available from Bideawee, or visit our friends at Animal Care Centers of NYC (ACC)