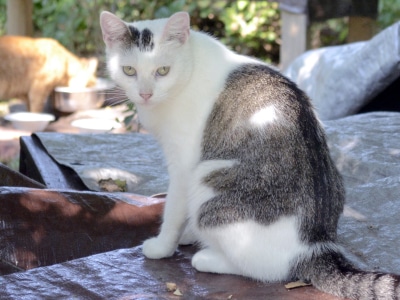 As the August heat sweeps across New York, here are FCI's tips to help you keep the cats in your community safe through the last dog days of summer.
Tips for Pesky Pests:
Ants are easily controlled by creating a water moat that they can't cross. While a cost-effective option is to place your food dishes in a shallow pan of water, this can be messy, and regularly cleaning and changing the water can add an additional chore to your day. Although a bit more costly, there are many ant-proof cat feeders on the market to help you combat ants all summer long without the hassle of additional clean up.
Flies are most easily controlled by feeding your colony when flies are dormant at sunup and sundown. Non-toxic fly traps are also a great way to keep flies at bay and discourage them from laying eggs in your cat's food dishes.
To discourage other animals, insects, and wildlife, put out only as much food as the cats can finish in a relatively short period of time. Excessive amounts of food can attract rodents and pests, which may lead to complaints from neighbors. Determining the right amount of food may take some trial and error, but is worth it.
Read more tips about feeding your community cats.
Keeping Community Cats Hydrated:
Hydration is important for the health of all cats, but many community cats don't drink enough water. While it's important to always provide your colony with ample fresh water, during the summer, mixing fresh water into your wet food can provide your colony with the additional hydration they need.
Each season brings its own care considerations for community cats. Follow Bideawee's Feral Cat Initiative on social media for more TNR tips and tricks!