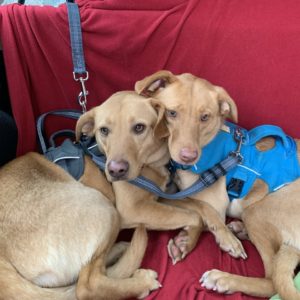 After losing my best friend (who had four paws), I wasn't sure I would ever get another dog. For a few weeks, I casually looked at adoptable dogs on Bideawee's website, but at the time, I wasn't even sure I was ready for a new family member. I was "just looking" but I kept coming back to photos of Kodak and Kenny on Bideawee's website, and thought, "What's better than a dog? Two dogs for sure!!!"
I went to visit the Westhampton location to make sure we were a good fit for each other. I was met by two painfully shy boys who seemed very sweet, but terrified. While Kodak and Kenny (now Kody and Bailey) were initially scared of me, I saw how affectionate they were with each other, and the staff they had spent the last few months with, and I truly believed they would come around. I came back again and while they still seemed scared, they also seemed happy to see me, and that was all the encouragement I needed. I knew that with a little time and patience, we would all be happy.
We have bonded so much over the past five months, and with a some love and stability, these shy boys are coming out of their shells. They LOVE our daily adventures to the park, nature trails, dog park, car rides, cuddles, playing together and are such happy dogs. Everyone who meets them says how good looking and well-behaved they are (adult mutts are the perfect breed to adopt). Kody and Bailey bring so much joy to my life, I'm thrilled that I was able to give them a forever home TOGETHER.
Bring home your best friend. Search our available pets.