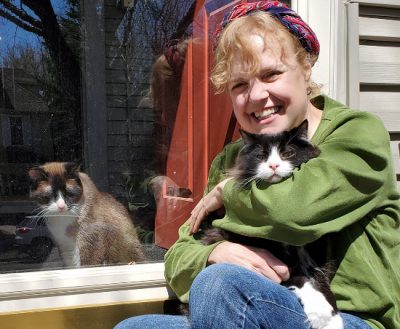 Krista Menzel, Feral Cat Initiative
Hi! My name is Krista and I work remotely from Minnesota doing communications, graphic design, database administration, and technical support for Bideawee's Feral Cat Initiative (FCI). For more than 30 years, I've had the privilege of being able to combine my lifelong love of animals with my education in art and biology and my skills in graphic and web design, writing and copyediting, photography, marketing, and programming to connect animal welfare organizations with supporters, online and in print. The animals I've helped through my work include cats, dogs, parrots and other captive birds, rabbits, and wildlife.
Since 2019, Bideawee has offered me the opportunity to focus on one of my favorite animals — cats! My contributions to FCI's efforts to help feral and stray community cats and the people who care for them include designing promotional materials for FCI webinars and campaigns; interacting with the cat welfare community via our Help Desk, social media, and email announcements; maintaining our database of thousands of Trap-Neuter-Return (TNR) caretakers, webinar attendees, and spay/neuter clinic clients; building our photo and resource libraries; strategizing projects with the FCI team; updating FCI's website content; and providing tech and admin support for the team. Kitties keep me hopping!
Outside of work I enjoy gardening, plant and animal photography, documenting insect sightings on iNaturalist, genealogy, cooking, and trying to convince my cats Zorro and Shazam that they have, indeed, already eaten.
Be sure to say hello in the chat if you attend a Feral Cat Initiative webinar!