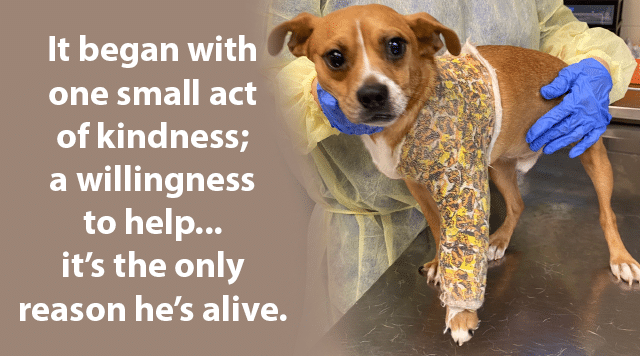 The gentleman who found Oliver had been out collecting cans when he spotted the lifeless body of an animal on the side of a busy road.
It was a sight many of us would have recoiled from, but the kind man inched closer, and as he did, Oliver raised his head ever so slightly, let out a single yip, and fell back onto the ground.
The man assumed Oliver had been hit by a car and immediately rushed him to the nearest shelter, but X-rays revealed something far worse. The small, sweet pup had been shot multiple times and had deep wounds in his limbs and head.
Thankfully, Oliver found his way to Bideawee, but his injuries were substantial and unfortunately, his leg couldn't be saved. He recently underwent surgery to have his front left leg amputated, and your compassion and support made that life-changing surgery possible. Thank you.
Oliver's been through a lot in just a short time but he's is a tough little guy who is now recovering in the care of a loving foster home. And when he's ready, our experienced matchmakers will help him find his forever family.
The care that Oliver requires is expensive, but we believe that every animal deserves the chance to love and be loved. 
Please make a gift today and help us transform the lives of innocent animals like Oliver.