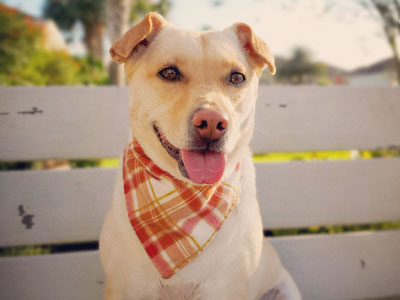 While growing up on Long Island, my family had two wonderful rescue dogs. In fact, the last dog my family rescued, back when I was a teenager, came from Bideawee. For as long as I can remember, I have loved dogs and couldn't wait to adopt my own someday. Well, that day came on October 29, 2017, when I adopted my sweet Kensington a.k.a. Kensie at 4 months old at Bideawee's "Fall in Love" fall festival in Westhampton.
I almost didn't go to Bideawee's festival the day I adopted Kensie. I had previously looked to adopt through a different rescue organization but my experience with them left me very heartbroken. So much so that I even questioned adopting ever again. I mentioned Bideawee's festival to my aunt, and despite my hesitancy, she convinced me to take a ride out there "just to look."
I arrived at the festival before it officially began, and the staff was kind enough to let me in early to look at the dogs that were up for adoption. Kensie, who was known as "S'mores" then, was the first dog I saw. She was wagging her tail and sitting so sweetly at her kennel door. After a couple of minutes of petting and talking to the staff about her, I decided to walk around and give the rest of the dogs a look, too.
After I finished meeting the other Bideawee pups, my aunt told me that Kensie kept her eye on me the entire time. The staff noticed too, and arranged a 1:1 meeting with Kensie and me in a private room. As soon as we were alone together, Kensie ran and jumped around, happily wagging her tail, and showering me with love. Within moments, I knew – she picked me to adopt her!
Bideawee's staff made the whole adoption process so easy. I filled out the required paperwork, and staff checked my character references as I contacted my landlord to verify that I had permission to have a dog. Before I knew it, she was contently sitting on my lap on her way to her new home.
Since adopting Kensie, she enjoys a life where she wins the love of every person and every dog she meets (cats, too, but they don't always seem to love her back)! She was perfectly behaved in her crate from day one, learned basic commands very quickly, and knows many great tricks like shake, high five, spin, sit pretty, play dead, and give kisses. She even chasses her tail to let me know that it's time to go out, which is quite possibly her cutest (and most random) trick of all!
Kensie is Canine Good Citizen certified by the AKC and has learned some service dog tasks to help with things that are hard for me to do due to a physical disability I've had since birth.
When we moved from Long Island to central Florida at the end of 2020, I worried about how she would handle flying on a plane. But, in typical Kensie-style she was perfectly calm and well-behaved throughout the entire flight. Although she loved the snow in NY, she now enjoys year-round sunny weather while she chases the little lizards that seem to run from every corner of our yard.
Kensie even has her own Instagram account. I didn't want to inundate my family and friends with endless pictures and videos of Kensie on my Facebook, so I set up an Instagram account for her @kensie_the_puppy. I hope you will check it out. The account is just for fun–she is not a social media "dogfluencer" by any means—but she's had her "15 minutes of fame" a few times by being featured on the Instagram accounts of Petco, PetSmart, Nationwide insurance for pets, and Rachael Ray's Nutrish pet brand, just to name a few. These features were neither sponsored nor compensated; they were all a random, but totally cool surprise. But then again, I shouldn't be surprised because Kensie is such a loving, well-behaved dog that makes me and her followers laugh every day.
Kensie is also the reason why I can't sleep in every day, but she is the best reason to wake up. She is also the reason I can no longer stay out for hours on end, but she is the best reason to come home. She is everything I hoped she would be and more. I may have rescued her through Bideawee, but Kensie actually rescued me in ways I didn't even know I needed. Thank you, Bideawee—but most importantly, thank you Kensie!