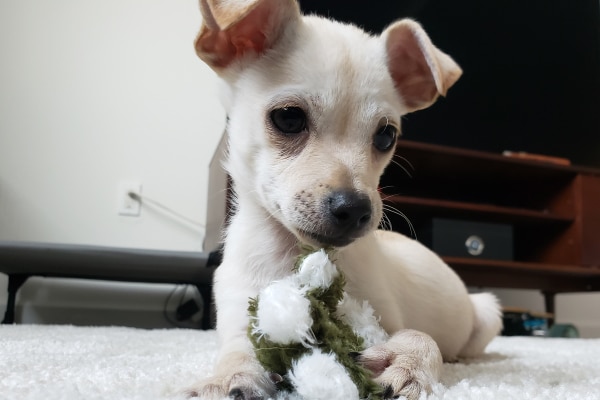 Our home was ready — we had all the toys, treats, bowls, even a leash. All the wires were tucked away and our furniture was virtually chew-proof. We picked a home right next to three parks and just as many dog runs. With everything carefully planned, our apartment felt noticeably quiet without the dog who was destined to call it home.
My boyfriend and I knew we wanted to adopt our dog from a rescue who had the safety, health, and happiness of their animals in mind even after the adoption process. When we saw how thorough the adoption application was, and how invested they are in their animals' well-being after adoption, we knew Bideawee had to be the rescue we would adopt from.
We applied for Mochi (formerly Yair) just hours after he was available online. That same morning we had a phone interview (and later found out they had already called our landlord for a reference, talk about speedy!) with our wonderful coordinator, Monalisa. We talked about our personalities and Mochi's, what our home life was like, and our mutual love for pet birds (we have a small conure, she had two bigger dream birds!). After hearing about Mochi's friendliness towards people, dogs, and pretty much anything that could give him affection, we knew we had to come in to meet him. My boyfriend and I went in that same day and coached each other to take some time, maybe a day or two to decide if Mochi would be the right fit. When we told this to the volunteer at the front desk, he took a beat and replied "oh, you'll adopt him." And he was right! We saw Mochi for the first time and never looked back. Just a few hours after we had applied for him, we were taking our puppy home.
Mochi has now fully adjusted to life at home and Bideawee was right — he is the absolute perfect puppy. He's loving, enjoys practicing new tricks and commands, and is very brave for such a tiny dog. Motivated more by toys than treats, our apartment is now flooded with every toy under the sun. We're so glad we applied for him (we thought it was a long shot… based on his pictures he probably had dozens of applications coming in at the same time!) and couldn't be happier spending each day raising our little guy to be the best dog he can be.