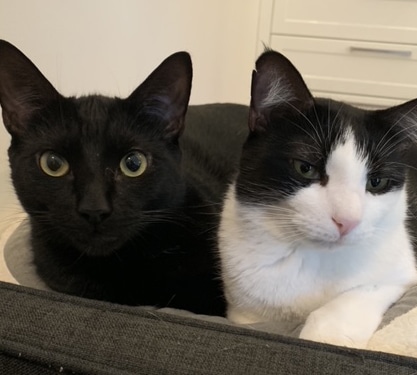 Mr. Bubbler came into our lives first, through what a lot of people would probably refer to as divine intervention.  My senior dog had passed away in March of 2019 from cancer, and by July of 2019 I was longing to love something furry again.  My fiancé and I both work full time and since this was pre-COVID, were out of the apartment for long stretches of the day.  We love dogs but knew it wouldn't be fair to keep one inside all day.  After scrolling through numerous adoptable animals, I spotted Mr. Bubbler and immediately began to tear up.  The very next day, he came home with me.
About a year later, Covid hit.  Mr. Bubbler was thrilled to have us home all the time but we could see a visible change in him when he realized we couldn't play with him 24-7.  After knocking on Bideawee's proverbial email door, we were sent a photo of Phobos (then Gavin) and set up a Zoom time to see him.  Fluffy? Check.  Energetic? Double check.  Stupendously cute? Triple check.  We arranged to meet with him that weekend and he came home with us on the spot.
Both times we adopted, Bideawee made the process as seamless and pleasant as possible.  My fiancé and I both shared a good laugh when we went to get Phobos because the staff member who helped us immediately said "YOU'RE the ones who adopted Mr. Bubbler!?" She was so excited, and you could tell how genuine their love for the animals is. They answered all our questions before, during and after and made the whole process a breeze.  Since they've been home, it's been great. There was a week or so of acclamation (completely normal with two male cats), and now they're inseparable.  We catch them sleeping together more often than not, they chase each other back and forth, and they groom each other like crazy.  They are brothers for life, all thanks to Bideawee.
Bring home your best friend by visiting www.bideawee.org/adopt