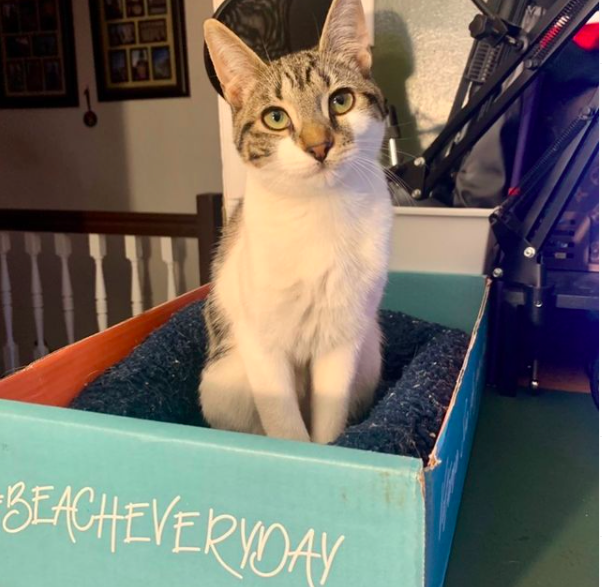 After my dog passed away, I signed up to be a foster but I was only interested in fostering a dog. However, over time, I wound up adopting another dog from Bideawee, and already had a Bideawee alum senior cat. Sadly, back in April of 2020, my senior cat passed away. I figured at some point I'd adopt an adult cat, but a kitten never crossed my mind. And amidst all the craziness of Covid, it just didn't seem like the right time for me to start that pet-search journey.
I was still on the fostering email list, and in early September I received word that Bideawee was looking for a foster home for two different single kittens. I reviewed the information and photos for 'Peanut', who was less than 1-month-old, weighed less than 1 pound, and needed a home until she was big enough to be spayed. This sounded perfect for me – I knew I would be working from home for a few weeks and had the room in my house and heart to take in this kitten "for a short while."
While I swore I was not going to adopt her, every other person in my life said I would keep her. And pretty early into fostering, we bonded extremely well. I was initially torn over whether I was ready to commit to another animal that could potentially be a 20-year commitment. However, it didn't take me long to decide that I would sign on for whatever life had in store with Peanut – I wanted her alongside me and my Bideawee pup! After about 2 months of fostering, Peanut was big and healthy enough to be spayed and I officially adopted her!
Life has been great with Peanut, also called Reese's Peanut Butter Cat. She loves to lay on my chest while I'm resting, and I'm more than happy to accommodate her! She enjoys the million cat toys all around the house, but her favorite one is the tail of her canine sibling, Bailey. She's also made a ton of human friends over Zoom by joining me on top of my shoulder when I do video calls (she's the highlight of my meetings!). I had never expected to foster a kitten, and now I can't imagine my life without Peanut as a part of my furever family!