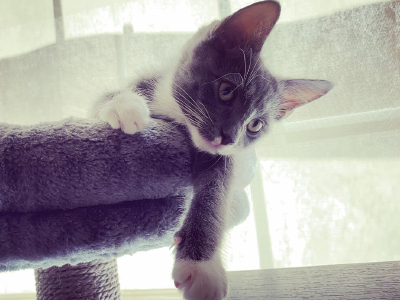 The idea of having pets is not foreign to me. Growing up, my family has always had animal companions – dogs, fish, parrots, and even a hedgehog who showed up and made a home for himself in a woodshed in our backyard. I myself have always appreciated cats for their elegance and independence and knew they'd be my choice of pets when the time came. Since university, I've often entertained the thought of getting a pet but was reluctant to move forward, citing busy corporate jobs and small city apartments as my excuses. In reality, I felt a little trepidation at the thought of having such a big responsibility and wasn't sure if I'd live up to the task. Finally, in June 2020, I started talking with a friend who fostered kittens and she convinced me that it would be the perfect time since we were working from home – it was just the push I needed.
I researched and reached out to various shelters to get a feel for the adoption process. Bideawee stood out as very reliable and well-run, so I figured it would be the right organization for me to adopt from. The website was easy to navigate with clear directions for the adoption criteria and process. When I saw Purrcy's (then Toulouse) pictures online, something clicked and I decided to turn in an application for him. Despite the pandemic, Kerrie at Bideawee reached out to me very promptly and we chatted on the phone. After learning about my background, Kerrie encouraged me to move forward with the adoption process. She also took the time to patiently answer my millions of questions (not quite, but close!) about the process and talked me through the prep work to make my home kitten-proof.
Luckily, Purrcy had just come back from his foster home, so I scheduled the next available appointment to go in and meet him. Walking into the kitten playroom, I immediately spotted Purrcy. Just like his pictures and bio online had conveyed, he was an energetic little fuzzy ball of fur with distinctive white gloves. Purrcy walked directly towards to me and his big hazel eyes twinkled with mischief. He sniffed at me for a moment and started to chew on my shoelaces as I petted him. The rest was history.
Life at home with Purrcy has been a joy. As soon as he got home, he started running around, hunting mouse toys and attacking my plant (RIP Robert). As a kitten, Purrcy napped on my lap while I worked during the day. In between naps, he shared plenty of purrs and kneads. As he gets older, he sits on my desk, often meowing at or pawing his revisions on screen as I type. He's also made plenty of cameos and speeches, which have provided an endless source of entertainment to all those attending meetings with me. I look forward to making more happy memories with him in the years to come. Thank you Bideawee, for rescuing Purrcy, and bringing him into my life (and special shoutout to Amy for pushing me to make the right move)!