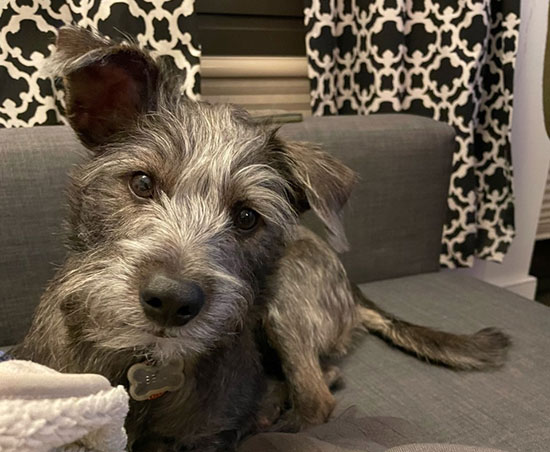 For years, we had wanted a dog, but couldn't make it work due to our work schedules and office policies that prohibited dogs. When our circumstances changed in 2020 due to the pandemic, we knew the time was right for us to begin our search. We researched shelters and rescue organizations in NYC and found Bideawee right away. We were impressed with Bideawee's long history and had heard great things about them from friends.
For several months, we checked the website each day, looking for just the right dog. Finally, in May 2021, we found Benji. He looked so cute and playful and was just the right size for our apartment! We applied, and a few weeks later, we got the good news that we were a match! We met Benji and his foster parent via Zoom and were so happy to see that he was as adorable and playful as he looked in the photos. About two weeks later, we met him in person at the Manhattan Adoption Center and fell in love even more. After an hour of play time, we knew that he was the one for us!
Benji has been a wonderful addition to our family. He is very social and loves meeting new dogs and humans alike. Our neighborhood dog park is his favorite place to visit — if it were up to him, we'd be there all day! At home, he loves to relax on the couch, chew on his favorite toys, and shower us with kisses. When we got married in Prospect Park, Benji was there with us, neatly groomed and sporting a colorful bowtie!
We are so happy to have Benji as part of our family and are forever grateful that Bideawee gave us the opportunity to adopt him!