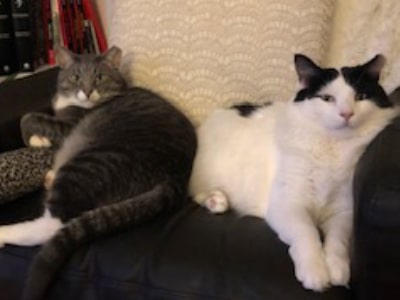 When my partner and I moved in together, we knew right away that we'd be adding a pet to our life – we barely made it a month as homeowners before we were looking for a cat. My friend had volunteered at Bideawee and highly recommended them, so I spent days scouring the cats and dogs and sending profiles to my partner, Mike. Once we spent some time in the cat rooms at Bideawee, Finch took an immediate interest in Mike – he kept walking up to him, staring, walking off, and coming back to him. Mike was convinced Finch was demonstrating how reliable he'd be as a family member since he both ate, and used the litter box in front of him!
Finch took no time to settle in – he lapped up attention and figured out "home" very quickly. Within a few days, he had claimed a prime seat for TV time, decided on a favorite window perch, figured out where his treats were kept, and revealed that he LOVES to talk! One thing that made us sad, though, was that even though he was king of the castle, Finch seemed to be missing his Bideawee friends. We have staggered schedules, so he isn't alone much, but Finch seemed more like a dog than a cat. When either of us came home, he'd be waiting at the door. It was clear he got lonely during the day.
And so, we went back to Bideawee only a few months later! Unlike Finch, Pip was a longer-stay resident of Bideawee before he came home, and he was much shyer. But, we'd spent a long time thinking about who Finch might like as a friend. Pip, with his more low-key but friendly biography –his adoption profile said that he was "always the first to greet a new resident cat" and "should go home to another cat because he'd be lonely without one" — seemed like a complement to Finch's diva-tude. It was a bit of an adjustment at first, but by the end of the first week, the two were snuggling together all day. Pip is the gentlest soul – he just purrs and begs to be pet – and he was the perfect match for our family. We're especially glad we didn't overlook this nervous guy. Once he got comfortable, he turned out to be a total lapcat and major ham, even happily greeting our friends' dogs when they visit!
Both boys have brought so much joy to our lives! They are funny, smart, and incredibly loving. They keep us on schedule – Finchie taps my face at exactly 5:55 for breakfast – but also reminds us to take breaks. Pip jumps onto Mike's WFH desk every day around 4:00 PM to ask for play time. Home would not feel like home without them, and we're so glad we decided to add these two sweet boys to our family!