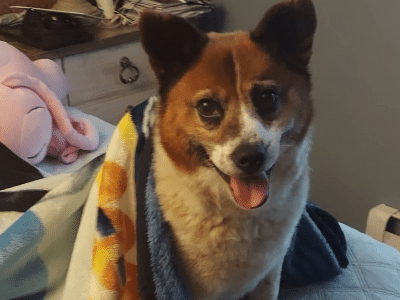 Freida is the most loving dog I have ever met and is the star of our neighborhood. She has never met a person that she didn't immediately adore and you can fully expect her to roll onto her back for pets within five minutes of meeting you. Everyone in our neighborhood knows and loves Freida; when we go on our walks people driving by will slow down just to say hi to her!
Whoever said you can't teach an older dog new tricks has obviously never met Freida! At six-years-old, she's a total smarty pants and is learning new tricks and commands all the time. In the six weeks since we've adopted her, she's learned to sit, stay, come, wait, lay down, roll over, and give paw!
Freida adjusted to living in a home almost immediately. She loves taking turns relaxing in every bed in the house but when it comes time to fall asleep, she chooses to be right beside me. Freida doesn't bark or communicate vocally but her expressive eyes tell us everything we need to know. She's told us on no uncertain terms that her favorite treats are anything with peanut butter or salmon and we make sure to always have them on hand for her! She loves her little raincoat and her many bandanas and always has an extra pep in her step when she's dressed to the nines. She is truly the best, and I can't imagine my life without her.