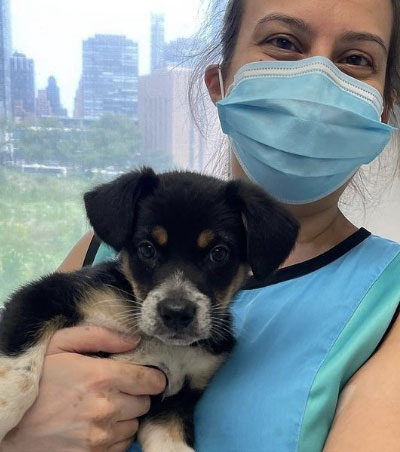 London actually came into my life because of another Bideawee alumna, Molly!  For several years, I would watch Molly, my friend's dog, as they needed, and on occasion would bring her to work with me. Last year, Molly and her father moved out of state, and I really missed having a dog.  I would check Bideawee's website weekly to see if there was a dog who I thought would be a good companion.  When I saw little London's picture, I fell in love and immediately applied online to adopt her.
The next day, Bideawee contacted me to say that I was approved, and I scheduled a time to meet her in person.  Little London was only 6 pounds when I met her, and she was so curious and cuddly.  The adoption process was very quick and easy, and I was able to bring her home that day!
I can't believe that it's been almost one year since this little cuddle bug has been in my life!  While she can certainly be a handful, I can't imagine life without her!  She comes to work with me most days and has charmed the entire building, and my patients love hanging out with her.  While I'll bring her almost everywhere I can, I especially love long walks with her early in the morning.  She's my sweet baby girl and I am so thankful to Bideawee for bringing London into my life!