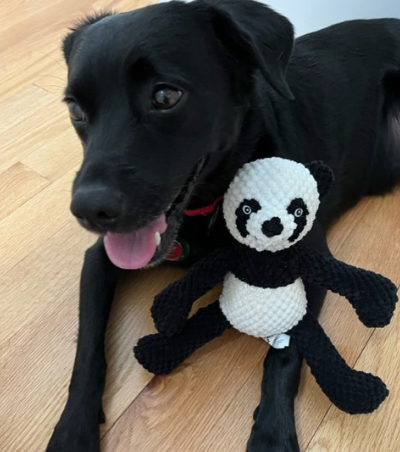 I LOVE dogs! I always knew that I wanted one and I always knew that it had to be a rescue.  But not just any rescue—I wanted a dog who needed a little extra love, patience, and training. I was willing to put in the work to help an animal who may otherwise be overlooked, because I believe these animals also deserve a chance to thrive and be loved. 
As a dog lover and long-term Bideawee supporter, I often look at the website to see if any of the dogs "speak" to me. But when I finally found my perfect rescue dog, Albert, it was actually my mother who saw the pup first. She sent me a link to his profile and lo and behold, my mom was right (as usual)—Albert seemed to be everything I wanted! He is able to thrive in the city, comfortable in an apartment, past his puppy years, and preferably black (because they're often overlooked and adopted last). So, I quickly inquired. 
After being matched with an adoption specialist, I quickly realized that Bideawee really knows their animals! During our first call, our specialist explained that Albert wasn't exactly cut out for shelter life since he was shy and even a bit fearful of his new surroundings. They further explained that the shelter can be overwhelming for many dogs, but under his shy exterior, was a genuinely sweet boy who would be a loyal companion.  
I brought a toy and treat to our first visit, but he was uninterested in both. Instead, he just growled and paced nervously around the room.  We couldn't even make eye contact with him at first. But something changed during our second visit. He was still scared, but this time he took my treats, and even engaged in some play time. I started to feel that he was actually rooting for us to be a match! But visit #3 wasn't as inspiring. He wasn't feeling well that day, so he was a bit grumpy.  He even growled at my parents who came along to meet Albert in person. But despite Albert's grumpiness, my dad looked at me and said: "he really needs a home." 
It wasn't until visit #4 that we had our first real breakthrough. I went away for a few days, but checked every night to make sure he was still there. As soon as I came back from vacation, I visited him again and that's when he gave me that special look that only rescue animals can give. If you have rescued an animal yourself—you know the look—the one that says: "I pick you!"  And Albert came home with me that day! 
It's been 3 months and you wouldn't believe this is the same pup! Albert, (now renamed Marshall) trots down the street, goes for long walks, plays with toys, asks for belly rubs, has new friends, and even smiles! We're still working on his anxiety, so every day I tell him he's safe, he's home, and he's loved.  
Marshall's progress has been amazing! To everyone at Bideawee – thank you for supporting Marshall when he needed you the most. We're both grateful for everything you do! Marshall now has his own Instagram account and you can follow him at Marshall.and.friends.2023