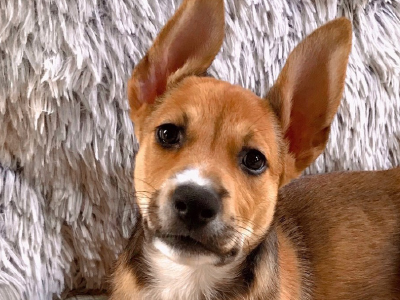 Poppy came to us exactly when we needed her. It felt like one of those "meant to be" moments. We didn't even realize how much of a void we had in our lives without her, so really, she rescued us, not the other way around. In the summer of 2020, we lost our family dog and best friend of nearly seventeen years. We thought we would give it some time before bringing another dog into our lives, but the very next day and every day after that, we noticed how empty our home and our lives felt. Our first dog, Lily, defined what home meant to all of us. She brought so much joy to our lives so losing her was indescribable, but we knew the best way to honor her memory was to adopt another dog like her.
We started applying shortly after the loss, but with the pandemic, the process was a bit more difficult. We submitted multiple applications but we often applied too late, and we started to think maybe a dog wasn't in our near future. We were ready to give up but that very night we received a voicemail from someone at Bideawee's Westhampton location. A lovely woman named Michelle read our applications so many times that she felt compelled to reach out and we're so grateful that she did! She said they had a puppy available, and before we even knew what she looked like we said yes, and immediately asked when we could meet her.
Poppy was absolutely perfect; I think it was love at first sight for us all. She just won us over with her sweet and affectionate nature and she is so incredibly gentle. It always amazes us how kind she is to every cat she comes across, whether it be inside the house or on the street in our neighborhood. The stray cats feel so comfortable that they walk right up to her sometimes.
Poppy helped us move forward after losing our first love, and she has filled our lives with so much happiness. She gives us so much to wake up and look forward to each day and we cannot thank Bideawee enough for trusting us with her. Poppy fits into our world like a glove and we're amazed each day at how lucky we are to have her.