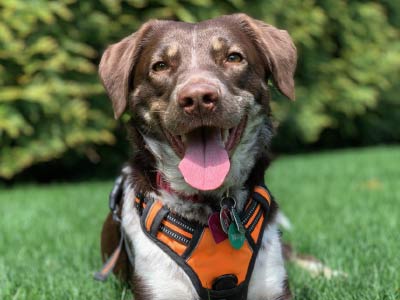 About two and a half years ago, my husband and I began dabbling with the idea of adopting a dog. After seeing a gorgeous dog in Central Park, we asked the owner where he got his pup and he told us about Bideawee. A few weeks later, we decided to start looking, and Bideawee was top of mind. After approximately two minutes on the website, we fell in love with this beautiful brown and white dog named Cherry. We knew we had to meet her.
We called Bideawee in Manhattan and they were so kind and welcoming. We were able to meet her that day, and knew she would be a perfect fit. However, as first-time dog parents, we were a little nervous. Cherry was scared, anxious and was heartworm positive. Fortunately for us, Bideawee's staff answered all our questions (we had a lot of them), provided us with a treatment plan to help her get better, and made the adoption process as smooth as could be.
Cherry, now named Rainey (after Rainey street in Austin, TX where my husband and I met) is thriving. Though it took a lot of hard work and even more love, Rainey couldn't be happier. She is the sweetest, most toy-obsessed, long-walk-loving pup ever. Rainey is a big goofball and gets along with every dog and person she meets. She tells us exactly when it's time for belly rubs and thanks us in unlimited puppy kisses. We can't thank Bideawee and the staff enough for allowing us to be Rainey's paw-rents.