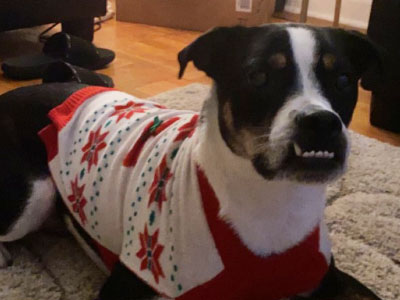 My husband Rick and I were looking to adopt a dog for a long time. We had been let down by other pet adoption agencies but when we arrived at Bideawee, we immediately had a good feeling. We particularly liked the policy of being able to take the pet home the same day you meet them, once all forms were completed and you were approved.
Due to both of our work schedules, there was only one day a week we were able to visit Bideawee, so we planned our trip and searched the website leading up to the day so that we knew who would be available. When we arrived at Bideawee on the morning of June 23rd, 2019, we were informed that a litter of puppies had just arrived the previous day and there were two puppies remaining. The litter was kept in a room off to the side of Bideawee's lobby and it was there that we laid eyes on Rocky and his sister Hattie, the remaining two puppies from mom, Tyra (also in Bideawee's care). We were told that Tyra had arrived at Bideawee pregnant and had been fostered by an incredible couple, who cared for her and her 10 puppies until all were ready to find homes. Now Rocky and Hattie were the only remaining pups and we knew we'd be welcoming one of them to our family. We watched Rocky and Hattie playing together, Rocky being the more dominant of the two, and my husband and I both knew he was the one for us.
After spending some time interacting with him, we were even more sure of our decision. Rocky was so cute, confident and we loved his little puppy voice! We had submitted all our paperwork ahead of time, as recommended, and after producing the necessary documents and speaking with the staff, we were approved to take Rocky home.
Rocky was only 2-months and 12 pounds on the day we adopted him. He was a little sad to leave his sister that day but since everyone who adopted Tyra's pups has stayed in touch, he's able to get together and play with his siblings at least once a year! Today, he is nearly 40 pounds, a huge fan of the outdoors and running around, and a regular at our neighborhood dog park. He loves playing with his bones, and chew toys and has never met a treat he didn't like!
We can't imagine life without our Little Rock; he brings so much joy and love into our lives and the lives of everyone he meets. We are so grateful to everyone at Bideawee who made the process of adopting Rocky possible and also to Tyra's amazing foster, who took such good care of our little guy and made sure we could all stay in touch.
We could not recommend Bideawee more to anyone looking to rescue a pet, as the process is simple, and the staff are caring, helpful, and clearly have the animals' best interests at heart.