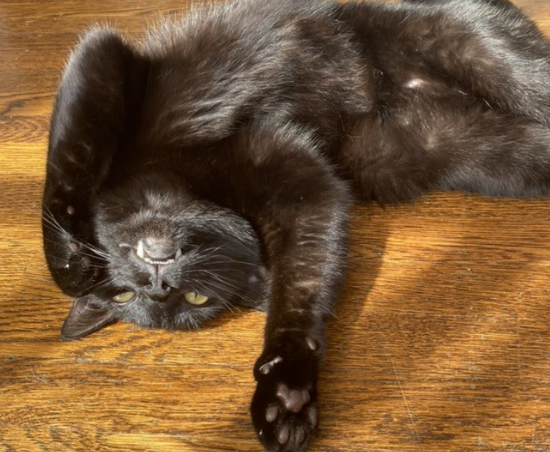 Before RZA (re-named after the leader of Wu-Tang Clan) came into my life, I used to frequent adoption centers all over Manhattan to find a cat I connected with enough to bring home, but never really met "the one". The pandemic had just started when I came across Bideawee's Instagram post highlighting a black cat with a puppy-like personality named "Mr. Sunshine", and I didn't hesitate to submit an application. I remember following up less than an hour after sending in my application, just because I didn't want to lose him to anyone else.
After "meeting" him during a Zoom interview, and then in-person at the Bideawee adoption center, I got to bring him home. Everyone warned me that cats take a while to warm up, but he immediately walked around my apartment like he owned the place. Over the past two years together, I learned he's quite the singer, hates being alone, loves belly rubs & chin scratches, and can "sit" and "hi-five", but only for treats. RZA doesn't work for free!
We celebrated his 7th birthday this year, and so many milestones since then! We now live in San Francisco, and he's got a little dog brother who he grooms and teaches lessons to, such as the importance of boundaries. Don't tell my dog (I love my babies equally!), but RZA made me realize I'm actually a "cat person" at heart.