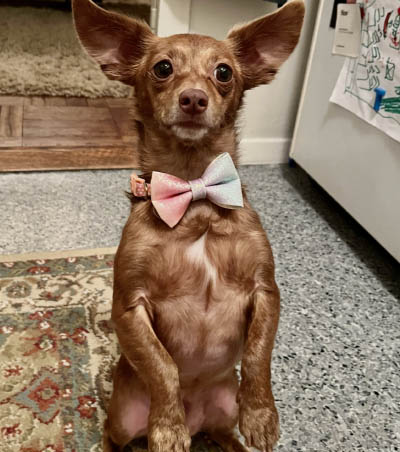 We had been dog parents to our beloved Miniature Pinscher, Percy, for 14 1/2 outstanding years and his passing left a tremendous void in our hearts. So, I'll never forget the moment a year and a half later, when I saw the sole picture of little Sophie (then Brownie) on Bideawee's website. Her terrified little face was peeking out from under a plastic cone and at that moment, I just knew.
I contacted Bideawee right away, but she wasn't ready for adoption yet because of how terrified she was after her journey from Tennessee. She couldn't cope in the shelter and needed to be in foster care until she was ready for adoption. Our first meeting was over Zoom with her dedicated foster family & the amazing staff at Bideawee's Westhampton location.
My heart skipped several beats during that Zoom (pandemic adopting procedure) as we were told just how much love and patience she would need, in addition to the fact that she didn't appear to care much for females. (She was bonding a lot more with her foster dad than her foster mom.) I decided to schedule a meeting anyway to see if Brownie would pick me.
Fast forward almost two years now & I cannot imagine my life without this little nugget. And so much for being shy!  Her big personality reveals itself a little more every single day. Sophie is living her very best life and I'm so glad she chose me! She has stopped hiding all the time under the bed or under anything and prefers to be by our side receiving cuddles. She loves her crate with all her plush cushions & blankets, and has learned sit, stay, and "up up up" (cute hind leg stance for elevated cookie reach). She's even started to give little sniffs to new dogs & people, and is the best travel companion, accompanying me everywhere from the comforts of her backpack carrier and swanky Burberry dog-purse!
Sophie provides us with so much love and laughter & brings a smile to EVERYONE she encounters. We are so very grateful to Bideawee & all the care they gave her before she came to us, her FUR-EVER home! Thank you from the bottom of all of our hearts!