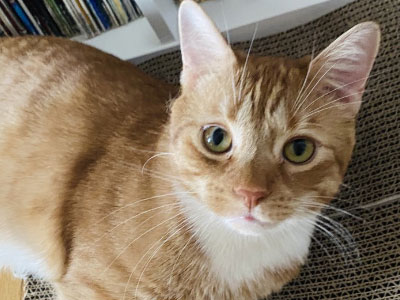 Once my Green Card was approved, I thought it was time to open my home up to a cat that needed love and safety, which I'd been dying to do for years. After some searching online, I found Sunny. His story about being left in a bucket outside the shelter, accompanied by the actual photo of him in the bucket broke my heart, so I emailed, called, and reached out on Instagram. I immediately heard back on Instagram and soon afterward, I had an appointment to meet him at their Manhattan location. When I met him, we bonded straight away, and when I went to take him home the next day, I put the crate down and he walked right into it, sat down, folded his arms and was ready to go. It was so overwhelming how quickly we became friends. This little guy has made me teary every day of the last 4 months (in a good way!), as I'm just overcome with joy watching him get more and more at home in my apartment. As I said on an Instagram post, he went from being dumped in a bucket to purring under a disco ball. He's my absolute favorite person (yes, I know he's not actually a person, but still).
Somewhere between a cat and a puppy, he loves to play fetch with his ball, RUNS to the door even from mid-sleep every time the buzzer goes off, and follows me around like a puppy. If he's ever out of sight, he meows to let me know where he is so I can pop around the corner to say hello! He's honestly the friendliest cat I've ever met. He loves people, and is always so excited when we have visitors and so sad to see them go. He loves to be around me, and even when I sleep, he makes sure he sleeps somewhere he can see me. He loves to sleep with one arm stretched out like Superman and it's the cutest thing in the world.
I'm a musician; I play piano and sing. And as fate would have it, Sunny is a very musical cat, which is both fortunate and wild to see … he meows in the same key as whatever song is playing, sits on my piano as I play, and genuinely responds to music (Grace Jones is his favorite!). In spite of the trauma he experienced in his past life, he's the sweetest, kindest soul, and he's been such an asset to me as I push through the grey hangover of the COVID year and a half. I never knew I could love a living creature this much, and I am so proud of the home I've made for him, and how he's making the home so much more wonderful every day in his own bonkers but brilliant way. He's the best decision I've ever made.