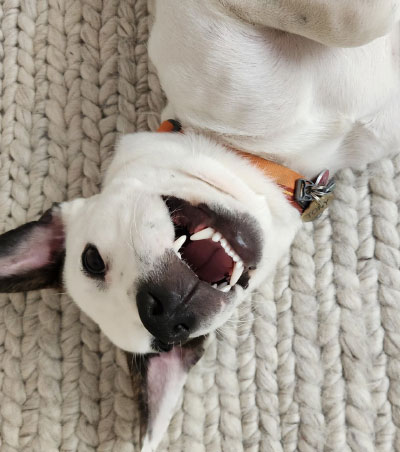 Guest written by Tony's adopters
Within the first two minutes of meeting him, we made the easy decision to bring Tony home. During the meet and greet, Tony ignored all the toys lying around the room at Bideawee Manhattan and instead opted to jump in our laps and attack us with kisses, before rolling over on his back and waiting for a belly rub. At that point, his name was Frankie. But his dense physique called to mind a certain Tony Soprano and his loyalty, sweetness, and occasional anxiety cemented his new name.
Tony settled into our home immediately, and quickly learned where he was allowed (the couch), where he wasn't allowed (the bed), and where to go potty (the sidewalk). At first, he was scared of the big city noises, but day by day, Tony conquered his fears and ventured into the streets of Brooklyn. In just a couple of weeks, Tony let motorcycles and trucks rumble by without the slightest concern. And, like a true New Yorker, he kills lantern flies on sight.
Tony loves meeting new people and the pats he receives from them, and he will pounce on the opportunity to tussle with another pup at the dog park. Since getting him that first weekend of September, we've wondered every day how we got so lucky with this sweet pup. We are beyond thrilled that Tony is a part of our family, and we can't wait for all of our adventures together!