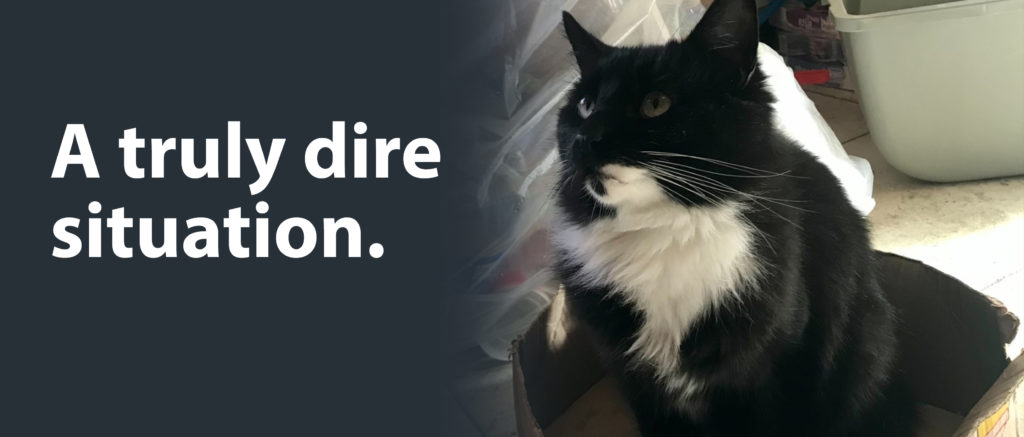 "This is a truly dire situation."
The desperate plea came from a Staten Island resident devoted to helping animals in need. Her heart was breaking for the group of young cats found living in squalor in the home of a woman whose compassion for helpless strays exceeded her ability to appropriately care for them. The situation was quickly deteriorating, and she needed help.
Luckily, she reached out to our Feral Cat Initiative team, and now five precious, neglected and ailing kitties are with us at Bideawee.
Please send an urgent gift today to help Bideawee care for innocent animals who come to us from terrible situations and desperately need us. Your gift helps ensure that they get the care they need and deserve.
Hoarding situations like the ones these cats have been rescued from are simply devastating. These pets live in a constant state of fear and confusion, their sweet natures compromised and their natural need for attention and affection unmet.
Sylvester, Maximum, Sephora, Maggie and Tinkerbell are just a few of the less-than-2-year-old cats who were living among garbage and filth in a house with no heat or even a single safe, sanitary place for them to eat or sleep.
Bideawee is their safe space now. They received immediate medical attention for conditions such as ear and urinary tract infections and dental problems — and are getting plenty of love as they await their forever homes. Despite all they've been through, they remain friendly and sweet, and we know that with some of Bideawee's TLC, they will have no trouble finding loving folks to take them in and love them for the rest of their lives.
Your gift helps to make rescues like this happen. Please send a generous donation today to help ensure we can continue to help animals like these who so desperately need us.
Thank you for your support. Very often, it means the difference between suffering and joy, hunger and health, life and death. We appreciate it and you.