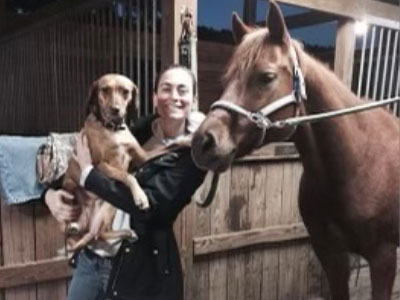 Ellen Delisle, Senior Manager of Adoptions
Hi, I'm Ellen, the Sr. Manager of Adoptions. I've been with Bideawee almost four years in a variety of roles. I started out as the Client Care Supervisor at our Manhattan Adoption Center, and I absolutely loved being the face that adopters met when they first came to the shelter to find their future fur baby. From there, I transitioned to managing our Foster Care program and supporting our foster parents in their efforts to give our shelter pets a loving, temporary home, plenty of TLC, and a safe environment to decompress in. As a foster parent myself, I have seen first-hand how pets can really thrive once they are given some time out of the shelter. Now I manage our adoption programs for all locations, and it has been so rewarding to help our adoption teams grow and develop their skills in both animal care & handling, and adoption counseling.
This is my first job in the animal welfare industry, but I have been heavily involved in the animal world my entire life. I grew up working with large and small farm animals at an organization that offered animal therapy for individuals with disabilities. Working there really ignited my passion for non-profit services. I love that I can utilize both my people and animal skills every day. Not everyone realizes how much human support is needed in order to impact the lives of these animals, but it's something I see and proudly promote on a regular basis. I'm honored to play a role in fulfilling Bideawee's mission and improve the lives of pets and the people who love them every day.