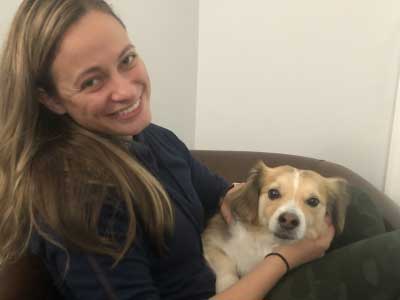 Volunteer & Events Manager, Manhattan
Even in high school, I knew I didn't want a 'traditional' office job, and working with Bideawee feels anything but traditional, even on the days I'm mostly at my desk.  I started working at Bideawee in 2016 as the Manhattan Volunteer and Events Manager.  My job is to manage the onsite volunteer base for our Manhattan location, where I have the pleasure of working with like-minded people who donate their time to support our mission.
After graduating with an Events Management Degree from Johnson & Wales, I worked in events for a few years but always felt like something was missing. One day, I came across Bideawee's job posting for a Volunteer and Events Manager, and something inside just clicked. I applied, landed the job, and have never looked back.
I learn so much every day from the staff and our amazing volunteers, and on top of that, Bideawee has given me the greatest gift of all: my amazing dog, Trooper! He's been an endless source of joy, laughter and companionship, and I will always be grateful to Bideawee for bringing him into my life!