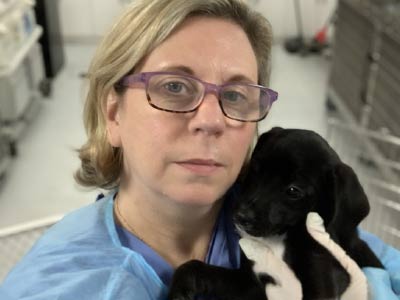 I have been a Licensed Vet Tech and Wildlife Rehabilitator since 1990. I began my career at Bideawee as a volunteer and then a per diem Vet Tech in 2007. Before this, I was busy raising my 2 daughters after exiting an 11-year stint in private practice.
When Bideawee Wantagh site was reopening, I was the first rehire at this location, and I've never looked back.
I am currently a Licensed Vet Tech and Manager of the Preventative & Wellness Satellite (PAWS) site in Wantagh. Paws is as an intake and screening facility. My main role is to facilitate and manage staff and patient care, by providing health screenings, behavior processing, and spaying/neutering before arranging transports to our Adoption Centers.
We don't always get to see the end results of pet adoption, but the PAWS staff is a crucial part of the process. My career at Bideawee has provided me with many challenges and rewards and I'm grateful for all of them. Challenges have included Super Storm Sandy, disaster relief help for homeless pets in other states, and outbreaks of serious diseases that have required long and difficult treatment protocols.
My co-workers and their hard work and dedication to the animals and the goal of the PAWS unit constantly humble me. Knowing thousands of animals find their way to loving homes is an immensely rewarding feeling.
I adopted my two cats from Bideawee. I brought home Blackjack, now 13-years-old, as a kitten in 2008, and Jojo is my quarantine kitty, who I adopted in 2020. In my spare time, I enjoy cooking, eating, reading, mediation, walking, hiking long island, musical theatre, concerts and relaxing with my family.