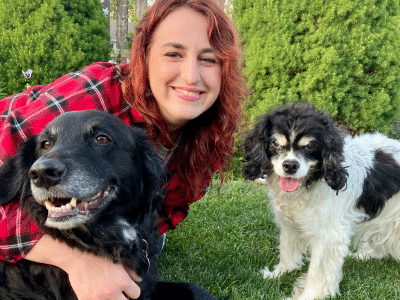 Animal Care Specialist, PAWS
"I started as a volunteer at Bideawee back in 2013, and in 2016 joined the team in Wantagh as an Animal Care Specialist. I am responsible for the daily care and enrichment of the animals. I've since taken on various new roles along the way such as assisting in surgery and performing behavior evaluations on dogs. Most recently I have become a mentor for the Dog's Trust professional development program, which focuses on learning dog behavior and training methods. I have learned so much along the way and continue to each day.
For as long as I can remember, my two biggest passions in life have been animals and art. I received my BFA in Illustration in 2015, but my passion for animals then led me to animal welfare. I continue my art in my spare time, painting watercolor and acrylic landscapes and pet portraits. I also paint birdhouses which are handmade by my Dad for our Etsy shop. My time at home is spent alongside my family's two dogs, Rocky and Adonis. Adonis is a Bideawee alumni. I first met him when volunteering back in 2014. I also spend my time caring for my two tortoises, as well as a variety of fish.
I cannot imagine my life without animals, and I feel so lucky that I get to spend my days working directly with them, and ensuring that they are as comfortable and happy as possible during their stay at Bideawee."