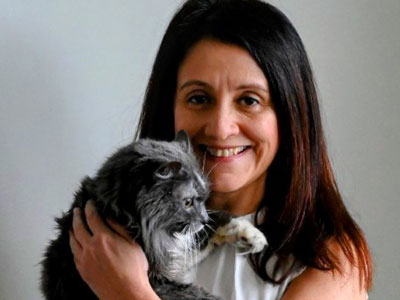 I joined Bideawee 18 years ago as a member of the Finance Department. Currently, as Revenue Accounting Manager, I help ensure the timely and accurate reporting of cash and revenue transactions to the general ledger. One of the things that I enjoy most about working at Bideawee is interacting with colleagues in various departments and collaborating to help achieve our collective goals and fulfill our mission.
I adopted two pets from Bideawee – a dog named Maki and a cat named Otto. Maki crossed the rainbow bridge in 2018. Otto is currently 18-years-old with various health issues, but you would never know that because he's still always getting himself into trouble!
I also care for two community cats – James and Roberto. James started hanging around our house about 2 years go. During that time, he's demonstrated some trust and recently started spending some winter nights in our house. We still haven't earned that trust with Roberto but we're working on it. He prefers to spend his time cozied up in a cat house outside of our home, that was custom built by my husband.
When I am not in the office crunching numbers, I'm spending time with my husband and twins, Anna and Ari. Some of the things we enjoy are hiking, hitting the beach, spending time with family and friends or traveling to my native country, Colombia.