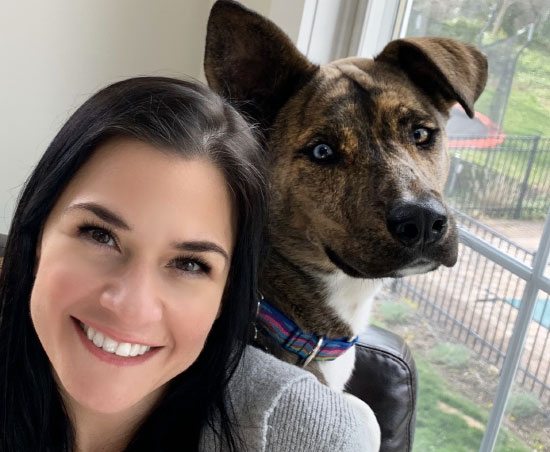 Michele Sofield, Senior Director, Web & Creative Services
Hi! My name is Michele and I'm Bideawee's Senior Director of Web & Creative Services. I've been at Bideawee for 15 years now and I consider myself incredibly grateful to have found a way to wed two of my biggest passions: animals and art.
I've loved animals from as far back as I can remember. I never carried around baby dolls; it was always a stuffed dog, cat or any other furry plush pet.
After two hamsters and a goldfish, I finally convinced my parents to get a dog when I was eight-years-old. She was a six-month-old pointer mix named Mindy from the local shelter and I couldn't have asked for a better four-legged best friend. It was at that time that I knew it was my dream to one day work with animals. I thought I was destined to become a Vet, but in high school, I discovered that I had a gift and passion for art. I went on to obtain my BFA with a major in Computer Graphics and after a few years of designing websites for products I wasn't all that invested in, I landed my dream job in animal welfare.
I feel so lucky to do what I love creatively and support the animal companions that I have loved my entire life! And I'm happy to say that while Mindy was the first dog in my life, she definitely wasn't the last. Today, I share my life with two 85-pound Bideawee rescues, Lilo and Nala.