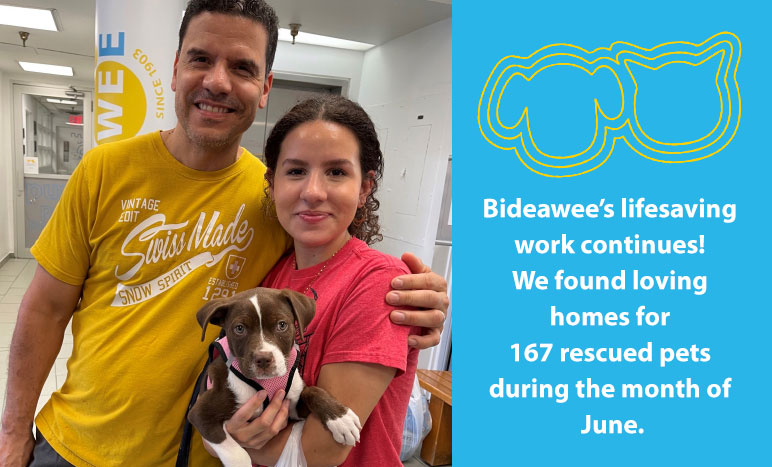 This Month's Features
Pet Spotlight: Rainey
About two and a half years ago, my husband and I began dabbling in the idea of adopting a dog. After seeing a gorgeous rescue dog in Central Park, we asked the owner where he got his pup and he told us about Bideawee. A few weeks later, we decided to start looking, and Bideawee was top of mind. After approximately two minutes on the website, we fell in love with this beautiful brown and white dog named Cherry. We knew we had to meet her.
Summertime, and the Livin' Ain't Easy
As our gas bills begin to look like grocery bills and our grocery bills begin to look like utility bills, it comes as no surprise that more New Yorkers are in need than ever before.
Bideawee has long valued and honored the human-animal bond—a bond that can be threatened in the face of financial crisis. Before the pandemic, there were thousands of pet owners who struggled to make ends meet for themselves, their families, and their pets. In post-pandemic New York, the demand for access to preventative veterinary care, pet food, and resources continues to grow.
Your Purrfect Pairing is Waiting
Each summer, thanks to "kitten season," shelters in NYC and Long Island are chock full of cuddly kittens waiting for their forever homes. But did you know that when adopting kittens, two is always better than one?
In fact, adopting two kittens is half the work of adopting one kitten. Kittens are little bundles of energy who love to play. By adopting a second kitten, you're providing each with a built-in playmate, wrestle partner, etiquette teacher, and cuddle companion while you're away. Kittens who are adopted alone tend to try to make the best out of their situation by finding sparring opponents and playmates in all the wrong places — like your curtains or ankles. When adopting kittens, they're always better in a pair!
That's why, when you adopt one kitten, we'll cut the adoption fee for your second kitten in half!
If you're ready to bring home a new feline friend — or better yet, friends — this summer, visit our adoption page to view cats and kittens available from Bideawee and stop by one of our locations to meet our little ones.
Staff Spotlight: Kathleen O'Malley
Director of Community Cat Education
Kathleen joined Bideawee in 2019 when the Feral Cat Initiative (FCI) became part of our organization. As FCI's Director of Community Cat Education, she teaches and advocates for Trap-Neuter-Return (TNR), the humane and effective approach to reducing and managing the population of community cats. She has been an animal welfare professional since 2013, when she left a career in medical editing to "work for cats."
Kathleen started practicing and promoting TNR in 2010, after one little "gateway cat" lured her into feeding a large feral cat colony near her home in Jersey City. She quickly set to work TNRing her own colony and finding indoor homes for the "friendlies." She went on to volunteer in several large grant-funded TNR efforts, including one that she project-managed for the City of Bayonne in 2012-2013. Kathleen continues to volunteer with a local cat adoption group and also finds time to garden, crochet, draw, and play violin. She and her husband are the proud parents of four wonderful cats: Thor, Hela, and "foster failures" Jude and Luke, who Kathleen rescued as colony kittens.
Pick of the Litter: Sebastian
by Terry Fastaia, Adoption Center Manager, Westhampton
Sweet, six-year-old Sebastian is my Pick of the Litter for July! This handsome boy was part of a group of 25 cats that were abandoned outside our Animal Hospital in April. Many of the cats were terrified and shut-down but Sebastian has been the sweetest, friendliest little guy since day one. He loves to play but he's also more than content to spend the afternoon snuggling in your lap! His two passions in life at the moment are eating snacks and making friends and with a resume like that, who wouldn't want to make this cutie their sidekick? You can meet Sebastian at our Westhampton location.