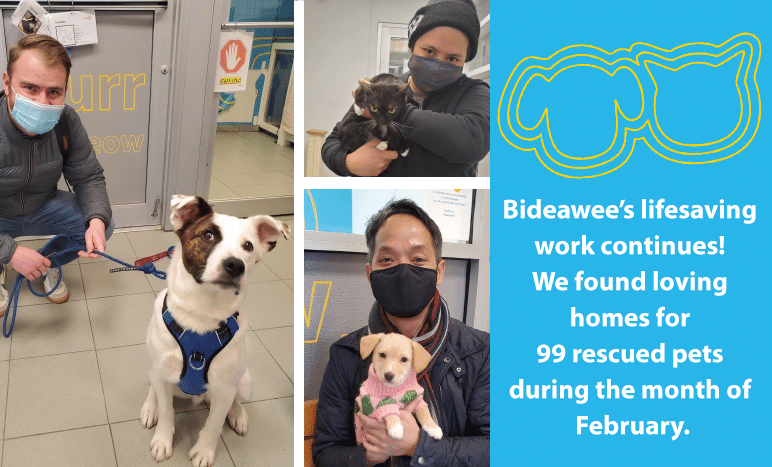 This Month's Features
Pet of the Week: Mochi
Our home was ready — we had all the toys, treats, bowls, even a leash. All the wires were tucked away and our furniture was virtually chew-proof. We picked a home right next to three parks and just as many dog runs. With everything carefully planned, our apartment felt noticeably quiet without the dog who was destined to call it home.
Problem Solving & Prevention: Covid Edition
Almost exactly one year ago, the world turned upside down and so many of us began to work from home, isolate, and live in a way we were never prepared for because of COVID-19.  Almost the same day as New York was ordered to stay at home, foster and adoption applications skyrocketed–at Bideawee and at shelters all across the country–and ever since, the demand for puppies, kittens, dogs and cats has been impossible to keep up with.  It's been one of the silver linings of an incredibly difficult time.
Focus on FCI: Spring is Nearly Here!

Coming off the heels of the unprecedented amount of snow around the country, it's hard to believe that spring is just around the corner! Bideawee's Feral Cat Initiative provides cat lovers like you with the knowledge to help your community cats, whether they are feral, friendly or stray, or kittens in need of assistance.
Volunteer Spotlight: Lee Traxler
Meet Manhattan volunteer, Lee Traxler. Prior to the pandemic, she volunteered with her daughters, but since COVID she's been volunteering whenever she's able with both cats and dogs, helping to support our adoption associates. Lee is always happy to clean litter boxes or kennels, or cuddle up with a fur-baby in need of a little extra tlc. And she always has a smile for the staff, other volunteers, or adopters.
Pick of the Litter: Beau
Picked by: Shanice Lewis, Adoption Associate

Everyone at the shelter calls Spotty Beau "my boyfriend" because they know he has my heart! I love taking Spotty Beau for walks, playing with him in the shelter, or just enjoying cuddle time with this cutie. He's incredibly sweet and LOVES affection but it takes him a little time to warm up to new people or dogs. Once he gets to know you, he's a total mush and has made tons of doggie and people friends in the shelter. We had a great time playing in the snow this winter and I know that Spotty Beau will make just as great a companion in the spring and summer!